Welcome to the LivABLE Environment Conference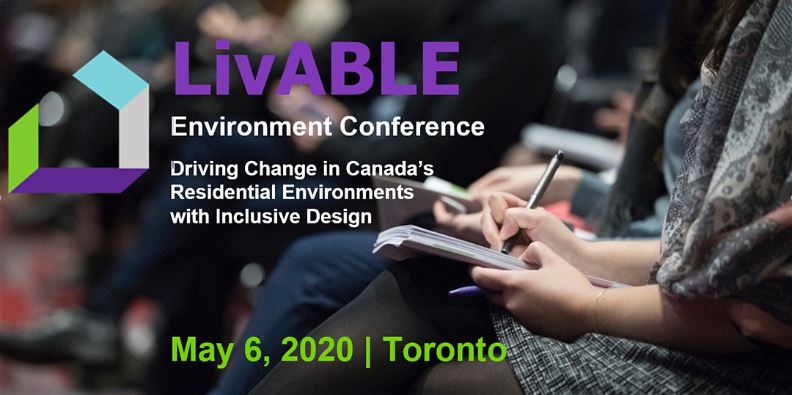 1 Day.
200 Influential Attendees.
Powerful Connections.A gathering to discuss the need to design accessible residential spaces regardless of age, ability or size.
Imagine not being able to access someone's home (or enjoy yours) because of a medical or age-related mobility issue. The idea might seem difficult to fathom, but for many people, accessible homes are simply not a reality.
One question we should all be asking ourselves is: "why are we not designing and building better spaces for everyone?"
In Canada, 1 in 5 is challenged with activities of daily living regardless of age, size or ability. In addition there are currently more people over the age of 65 than under the age of 14. The Baby Boomer generation is one of the largest segments of the population and the driving force behind the Living In Place movement.
Over 90% of Baby Boomers want to remain in their own homes as they age, and they have the money, resources and drive to make that happen. All you (and your business) need to do is listen to them and come up with creative and innovative ways to help them Live in Place.
Living in Place is important to all Canadians regardless of if they are growing older or living with disabilities and mobility challenges. This movement provides builders, designers, architects, decorators, interior designers, land developers, renovators, healthcare professionals, and product manufacturers/distributors with an incredible opportunity – the opportunity to design and build homes that work for everyone.
Right now, we are facing a housing crisis and if people want to remain at home indefinitely, they will need to modify their spaces -and you can help them do just that. The Canadian Home Builders Association says that home modification is a $77 billion dollar industry in Canada, with new builds tipping the scale at $275 billion dollars.
The LivABLE Environment Conference is the first of its kind in Canada. A gathering of like-minded industry leaders and influencers from across the country, the conference aims to let professionals know that they CAN help people Live in Place.
The conference invites attendees to have meaningful and transformational conversations about residential design. By association, you will be part of the Living in Place movement. Through engagement, you will have the opportunity to initiate change while discovering new and innovative alternatives.
Attendees can expect to share, learn and grow. It will be a day filled with information, networking and inspiration—a giant meet-and-greet in a TED Talk format with multiple industry expert speaker sessions, a curated product expo and more.
The LivABLE Environment Conference is for learning, exploring, connecting and sharing ideas.
You will be able to meet valuable contacts, foster new connections, and discover innovative technology and products. Armed with this, trade professionals and manufacturers will be better equipped to address the growing demand and confidently market themselves as leaders in the Aging and Living in Space sector.
Be part of the LivABLE movement.
September 17th, 2020 at Centennial College Event Centre. 
For details and to register for your Early Bird Ticket visit our website at liveableCanada.com  or contact Linda Kafka DDA Affiliate member at linda@livinginplacenetwork.com