The Top Universal Designs of 2019 for Kitchen and Bath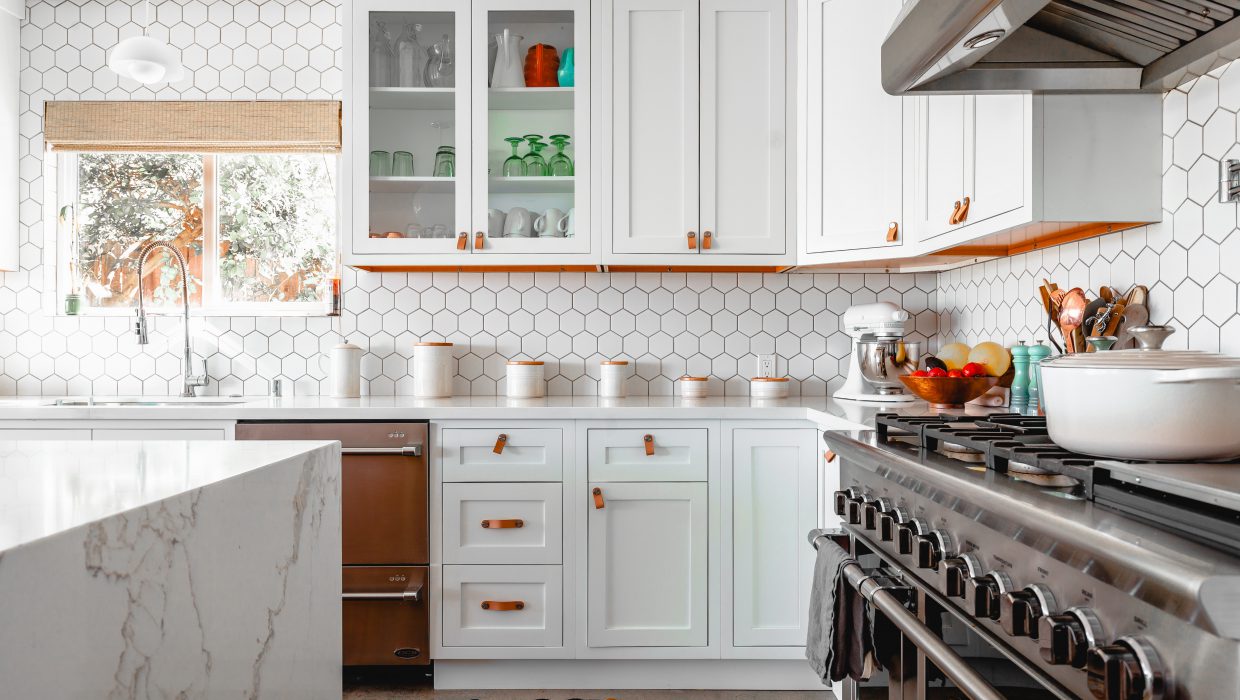 Each year, the DDA Canada holds its Decorating and Design Competition, an industry event geared towards giving established and upcoming decorators and designers a chance to show off their work.
Entrants in this category had to demonstrate the use of the 7 Principles in Universal Design within a kitchen or bath project: equitable use, flexibility in use, simple and intuitive use, perceptible information, tolerance for error, low physical effort, and size and space for approach and use. Take a look at these award-winning universal kitchens or baths, submitted by both DDA Canada members and by students.
---
Member Designs
"Special Needs with a Special Touch"
This couple needed a bathroom that could accommodate a wheelchair but was also elegant, simple, and intuitive. Their primary requests were for a shower that could be used with a wheelchair, a toilet with a bidet function, and a vanity that would accommodate a wheelchair. In addition, they hoped they could create a spa-like feel in the space.
We created a shower that was large enough to bring the wheelchair inside, turn around, and exit comfortably. An accent floor tile made the transition smooth and noticeable. The shower controls were installed at a comfortable height for a wheelchair-user, there were grab bars, and the built-in niche was highlighted with accent tiles.
To mirror the sitting height of the wheelchair, we customized the height of the toilet and made sure there was ample space with pivoting grab bars for easy transfer. Special features included a lid that automatically opens when a person comes near, a bidet function, and remote control for flushing.
The vanity was designed to accommodate a wheelchair user with under-mounted shallow sink basins that allowed the cabinets underneath to be recessed. Under-cabinet lighting was installed to accentuate the vanity and also serve as a nightlight. Plenty of lower drawers were installed as well as more standard upper cabinets. Aiming to generate a spa-like ambience, we installed a soaker tub, a heated towel bar, and heated flooring. To glamourize the room, we installed crystal drawer and door pulls, a crystal chandelier, and custom vanity.
Designer: Katherine Joy Interiors
Award: Gold
---
A Bath for All
This project was highly technical and addressed the needs of a multi-generational home. The clients were an aging senior couple, the primary caregivers to their adult son who suffers from a progressive illness, Becker Muscular Dystrophy. The father has advanced arthritis and both parents experience visual difficulties associated with age. Further complicating the project, the son was fighting the use of any assistive devices but the design had to accommodate for a wheelchair which will inevitably be in use. The family wanted a bathroom that would accommodate current and future needs but that was not obviously accessible.
The ceiling and walls in the bathroom were blocked with 3/4″ plywood to accommodate handrails and a ceiling-mounted patient lift system. We used multiple layers of lighting to support vision issues. The 2″ hexagon flooring with a textured finish was anti-slip and heated. The shower area features a roll-in stall, a flip-down fixed bench, and handheld controls positioned so they can be operated from a seated position. At the request of the parents, a soaker tub was installed. A fully customized vanity features a removable storage unit to accommodate a wheelchair in the future.
Designer: ACM Designs
Award: Silver
---
Student Designs
"Universal Bath"
These clients wanted the addition of windows and doors, either two sinks in a single vanity or two units, clothing storage for two, and a shower.
Recognizing that many people don't want to install grab bars because they appear too institutional, we used fixtures that combined uses—a combination grab bar/toilet paper holder and grab bar/towel holder—to ensure functionality and aesthetics. To save space, we used a Serena Seat that conveniently folds against the wall when not in use. Handles were installed for the door and the faucet; the Kohler faucet has two lever handles allow for both volume and temperature control. We installed an accessible toilet, ensured there was knee space under the sink, and a full 60" turning circle throughout.
Designer: Mai Thao
Award: Gold
---
"Funky Retro Universal Kitchen"
A newly-retired foodie couple was looking to remodel their kitchen in their mid-century bungalow. Well-travelled, they hope to continue exploring the world and host big family dinners when at home. The challenge was to incorporate the stair headroom and design a universal kitchen that will address their needs as they grow older.
Inspired by a vibrant colour palette and modern finishes, we created a fun and functional layout that offers the convenience of modern life while respecting the style of the home. The design is symmetrical and provides loads of counter space and storage which will accommodate numerous guests. To improve accessibility, we also incorporated a plethora of products and surfaces that will ensure the owners enjoy their new space safely and comfortably for years to come.
Designer: Suzanne Chenard
Award: Silver
---
"Universal Bath"
The goal of this project was to design a bathroom and walk-in closet with enough storage for two users incorporating the principles of universal design.
We used an achromatic colour scheme, marble texture, and clean lines to give this space modern elegance, spaciousness, simplicity, and cleanliness. The accent of wood in the countertop provides warmth, and the contrast between the black and white creates visual ease for recognition. We divided the space in the walk-in closet and bathroom to accommodate circulation, and the doorway in both the closet and the bathroom are large enough to accommodate a wheelchair. When open, the bathroom door doubles as a panel for the open storage.
The walk-in shower has long and wide built-in seating. Slip-resistant wall and flooring surface material is used throughout the bathroom. Dual function grab bars address safety with style. We used a strip light with a motion sensor in the entrance of the bathroom to guide the user to the bathroom, along with strips lights for the shower and vanity. A touch switch has been used for the rest of the lighting fixtures, making the user experience effortless. The intelligent toilet has heated seats, a built-in bidet, and a touchless flushing system. The floating countertop provides room for accessibility, and the wood creates a point of focus for easy recognition.
Designer: Pukar Risal
Award: Bronze