The Most Inspiring Commercial Designs of 2019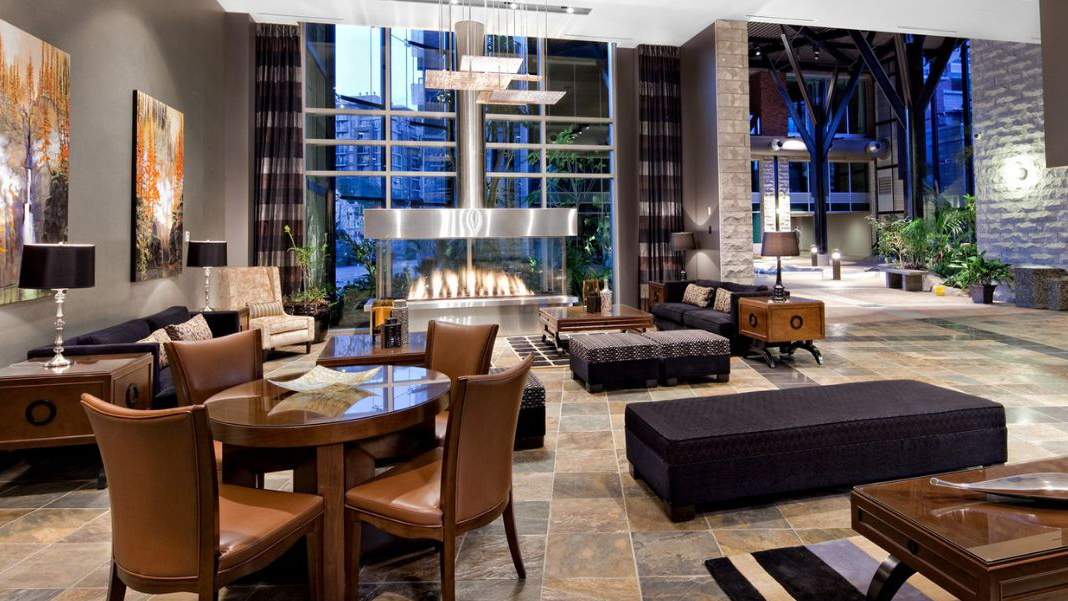 Each year, the DDA holds its Decorating and Design Competition, an industry event geared towards giving established and upcoming designers and decorators a chance to show off their work.
Take a look at these award-winning commercial designs.
Commercial Design
"Gold Mountain Restaurant"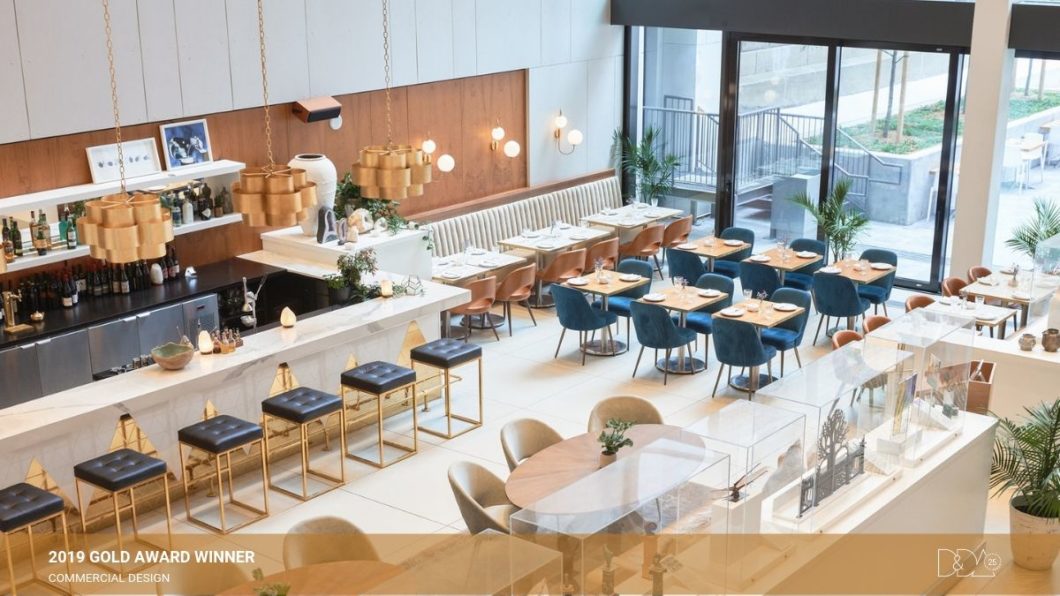 This restaurant was to be situated within the main lobby of a heritage art gallery so the client was looking for a space that respects the original building while creating a unique identity to highlight food and mixology. They wanted an intimate dining experience, regardless of the 45' ceilings, combined with a "grab-and-go" area with sit-down dining space.
With a grab-and-go bar as well as a sit-down restaurant and bar, there was more than one functionality in play. Separating these two purposes while maintaining a cohesive design with an intimate feel was a challenge but we custom designed long, high-top bar tables that served as space for guests to perch and eat their grab-and-go food, while also offering a division of space. The finishes in both spaces are complementary so they can be combined into one large space for events.
We used understated, natural tones layered with glitzy highlights like gold leaf tiles and light fixtures. To warm up the space and create intimacy we dropped large gilded pendants over the bar which ground the design and draw attention to the mixology. We used a variety of acoustic finishes in the furniture and decor items to dampen the noise and created custom upholstered banquettes lighted by wall sconces. In several areas, we modified leather sofas and dining tables to bring a hint of residential-style intimacy to the commercial space. Juxtaposed with the stark architectural lines of the staircase and the 45' glazed windows, we used natural finishes such as teak wall panelling and marble tabletops to add earthy texture and organic lines. The design maintains overall clean lines and simplicity, resulting in a chic, elegant and unique style that respects both the old and new.
Designer: West of Main
Award: Gold
"Test of Time"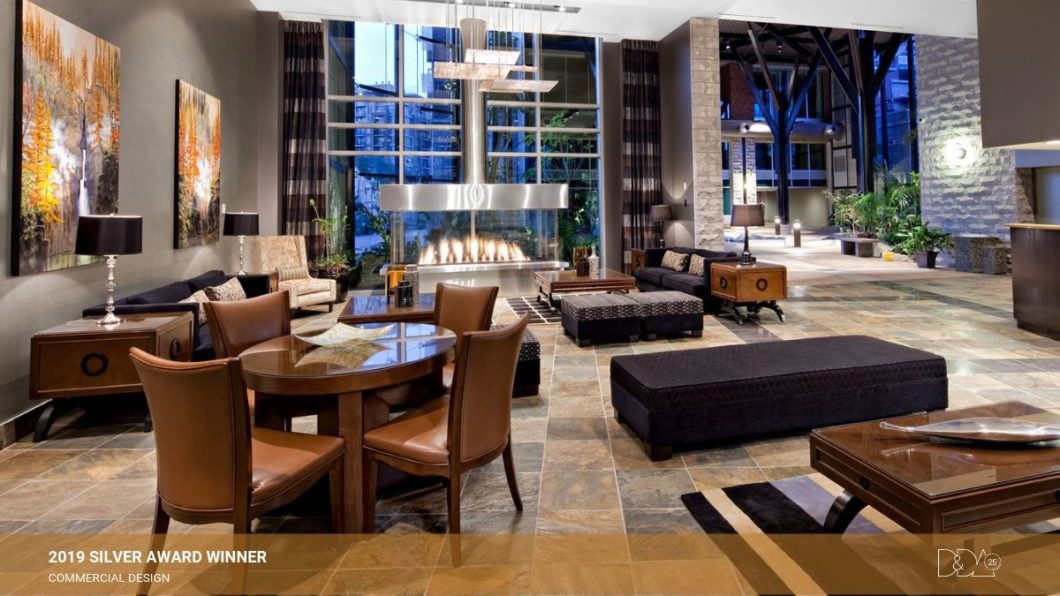 This mixed-use commercial and residential urban resort was built to Leed Platinum Certification standards ensuring sustainable building design, construction, operations, and maintenance, and supporting a healthy indoor environment. The building encourages a mix of tourist accommodation and year-round living, and is modelled on sustainable vacation solutions instead of typical vacation homes that sit empty for much of the year.
It was designed to fit aesthetically with the surrounding Victorian neighbourhood without being dated or old. The use of durable exterior and interior rock, stone, and water features bring the outdoors in. The two independent 7- and 8-storey towers are joined by 3-storey glass and green-roof garden atria. All water features throughout the resort are ozonated, including the pool and hot tub. The landscape concrete tile pattern in the lobby is a continuous flow from outside to inside. The custom 12-foot stainless fireplace, mill-work and extensive glazing and tile work is showcased throughout. The suites feature luxury furnishings, and the fabrics and décor are made from low-emitting, non-toxic, recycled, natural, and long-lasting materials such as limestone, slate, and granite. All suites feature Energy Star-rated appliances including dishwashers, laundry systems, refrigerators, and electronics. We used granite countertops, FSC approved maple hardwood, original paintings, and custom-designed maple furniture in the suites. The floors and counters are made from natural materials including limestone, slate, and granite. A luxurious colour palette creates a signature look adding to the visitor's overall experience.
Designer: The Interior Design Group
Award: Silver
"High Tech & Eye Catching"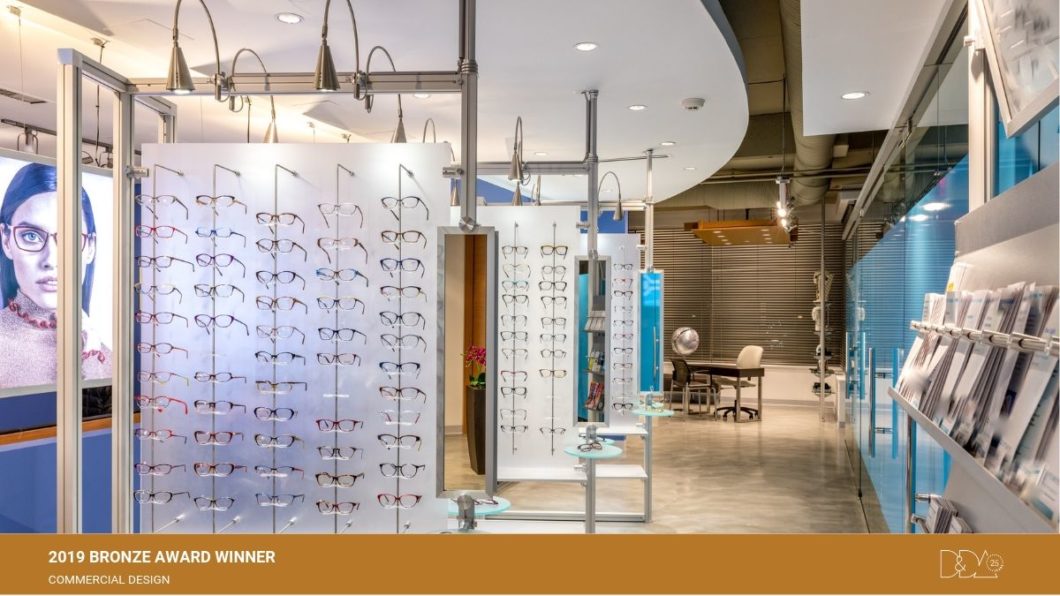 An optometrist moved their office into a larger space. They wanted it to be functional and welcoming but also visually stimulating. In terms of layout, it needed to encourage optimal flow for the clients, doctors, and staff, and to facilitate comfortable browsing. The design also had to encompass their state-of-the-art diagnostic imaging and technology, their in-house lab, and a large selection of brand-name eyewear. The original space had been an orthodontics office and was full of suspended cabinetry, plumbing and partitions, an X-ray room, and a full kitchen with sterilizing equipment. It was dark and outdated.
We developed an open-plan concept including floor plans, fixturing, and all finishes. We removed walls between the waiting room and the retail space, and took out the kitchen entirely. This space worked nicely as a showcase for their frames. We kept the original lighting layout, but added new LED lamping and some decorative fixtures. We needed to develop individual exam and testing rooms, some which needed complete darkness and others which did not, so we installed glass walls, covering them partially with commercial vinyl matching their branding colours. We resurfaced the painted concrete floors with a grey metallic epoxy urethane. Light boxes, custom cabinetry, and custom frames fixtures gave the place polished look while meeting functional needs.
Designer: Urban Spaces Design Co.
Award: Bronze