The Best of the Best in Interiors for 2019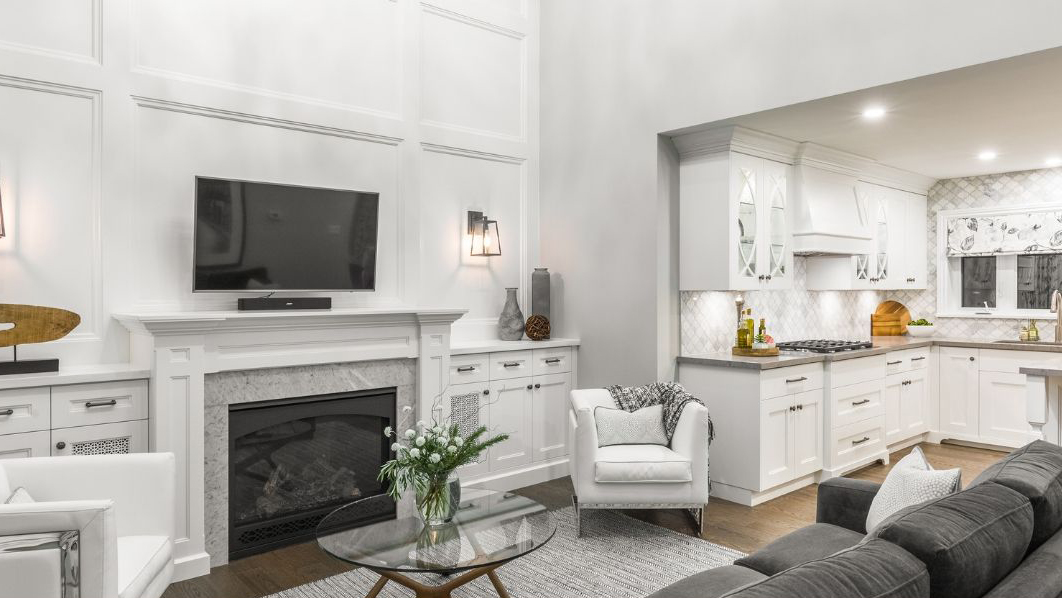 Each year, the DDA Canada holds its Decorating and Design Competition, an industry event geared towards giving established and upcoming decorators and designers a chance to show off their work.
Entrants in this category were working on interiors, and winners were selected in five categories: Over $100K, Over $45K and Under $100K, With Construction Under $45K, Without Construction $10K to $45K, and Challenging Budget Under $10K. Take a look at these entries submitted by both DDA Canada members and by students.
Over $100K
"A Dream House"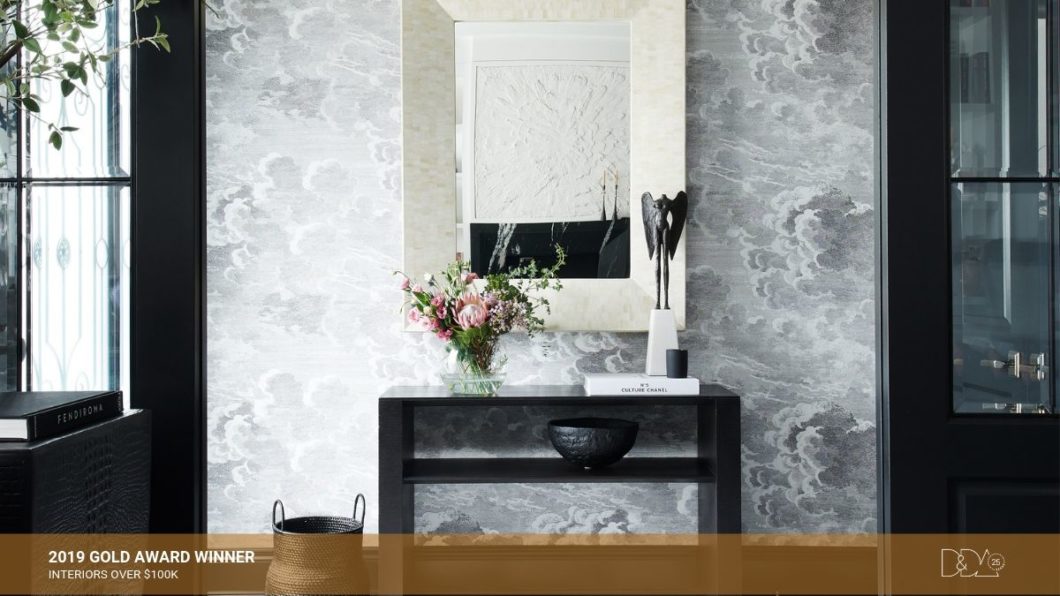 The overall design goal was to create an elegant, artful, and very inviting space.
We used a black and white colour scheme that starts at the front entry foyer and continues through the living and formal dining areas into the kitchen. Architectural interest was added with clever details incorporating textures, patterns, and art on the ceiling and walls. Art and accessories, lamps, pillows, and throws were added and resulted in a sense of affluence and comfort to the overall feel of the house. We applied Venetian plaster to the walls and ceilings in several different areas of the house, designed custom mill-work units and a vanity, and commissioned custom artwork from Toronto artists. In the living room, we designed a bespoke media unit with placement for a large TV above the custom marble fireplace mantle and behind a sliding panel so it doesn't dominate the space. The panel itself is a piece of art, a sunburst plaster installation commission by a Toronto artist.
Designer: Svetlana Tryaskina
Award: Gold
"The High Fashion Closet"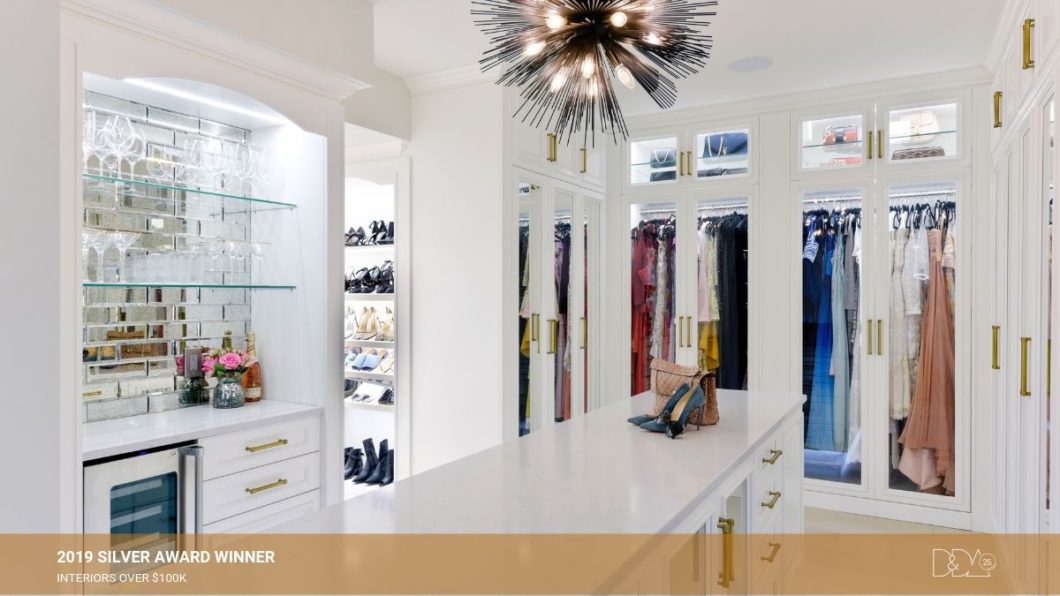 The task at hand was to design a 341-square-foot closet.
We started by demolishing the existing rooms so we could see what was going on with the existing varying ceiling heights and the HVAC or service restrictions. From there we designed a custom walk-in, complete with a central island, personal vanity space, and window seating that includes floor-to-ceiling cabinets with classic door profiles and containing varying shelf heights and depths for specific items. Select doors were finished with glass fronts and LED lighting to showcase designer gowns, shoes, and accessories. Burnished brass pulls subtly added sophisticated glamour to the space. A 10-foot island, positioned in the center of the space, runs the length of the closet, and provides a workspace and additional accessory and clothing storage.
Completed with a snowy quartz countertop and LED strip lighting, the island delivers both a sense of beauty and functionality in the space.
Designer: Sascha Lafleur
Award: Silver
"Open-Concept Oasis"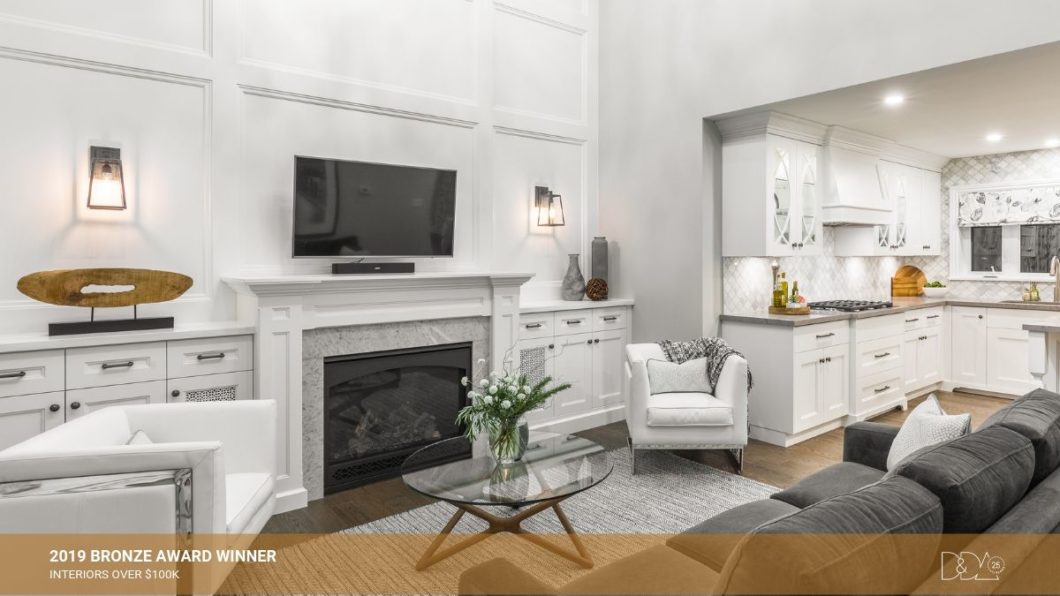 When we met the homeowners, they were very unhappy with the original layout of their home. It was choppy, closed off, and did not allow for sight-lines and guest interaction. The spaces seemed smaller than they actually were, and the decor was dark and dated. On their wishlist was a warm and inviting feel, better flow and functionality, an open-concept layout, gathering places ideal for entertaining, a new custom kitchen with island, and a new master bedroom, bathroom, and built-in laundry.
We removed a wall that separating the existing kitchen and dining room and installed a flush-mount beam where it was structurally required. We used recessed wall panelling to showcase the home's incredible ceiling heights and to create a stunning focal point. We reworked the master area to include a custom bathroom vanity with lots of storage, his-and-hers walk-in closets with custom organization systems, and built-in laundry facilities.
Designer: Patti Wilson
Award: Bronze
Over $45K and Under $100K
"Hail Navy, Hail YES!"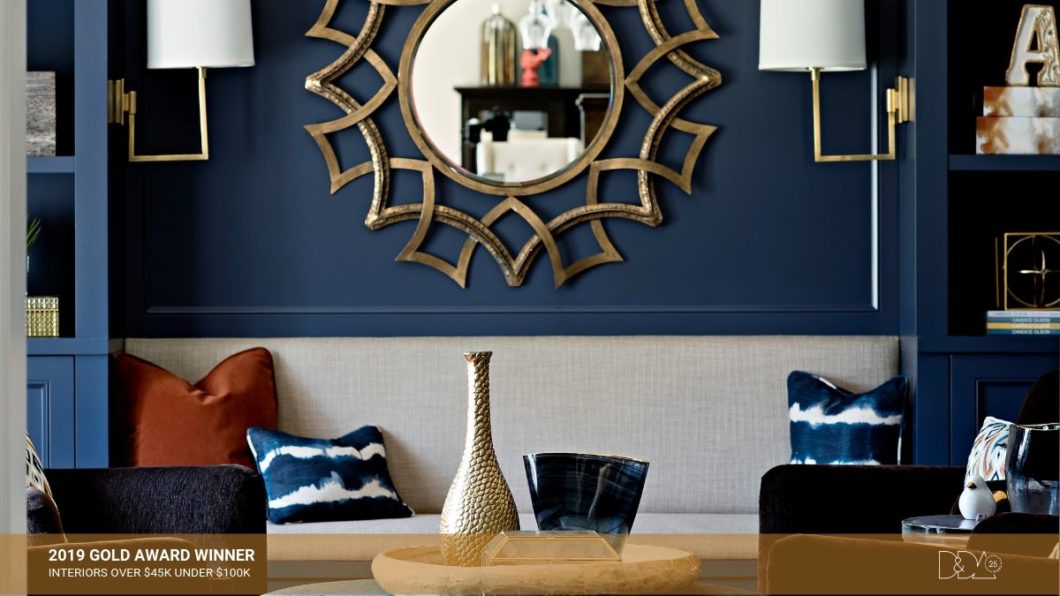 The clients for this main floor renovation are a young, busy family with three children who wanted a contemporary space to reflect the spunk and energy of their everyday lives. They had some existing pieces to work with and wanted comfort, durability, and style.
For storage of the kids' toys and games, we designed custom shelving and cabinetry, and brought in consoles wherever possible. The family loves to read so we included a cozy, built-in reading bench with lights on either side flanked by bookcases. We centred the seating to make an inviting conversation area. The Benjamin Moore HC-154 Hale Navy paint with gold accents gave this space it's 'wow' factor. In the grand foyer, we applied moulding along the stairwell wall to achieve a designer look. We sourced a unique console paired with a large-scale mirror and lamp to add some personality and suit the scale of the double-height ceiling. The substantial, open light fixture with rope detailing finished off the space. We carried the navy and burnt sienna theme into the family room, making this space vibrant and welcoming. The massive sectional not only seats the entire family plus some, but it also offers an opportunity to relax after a full day. Window seats allowed for storage in the drawers below. The dining area was refreshed with a new dining set bringing a splash of colour in the otherwise neutral area. We added in a beautiful new light fixture and linen drapes bringing a simple, classic approach to this space.
Designer: Pizzale Design Inc.
Award: Gold
"Law and Order"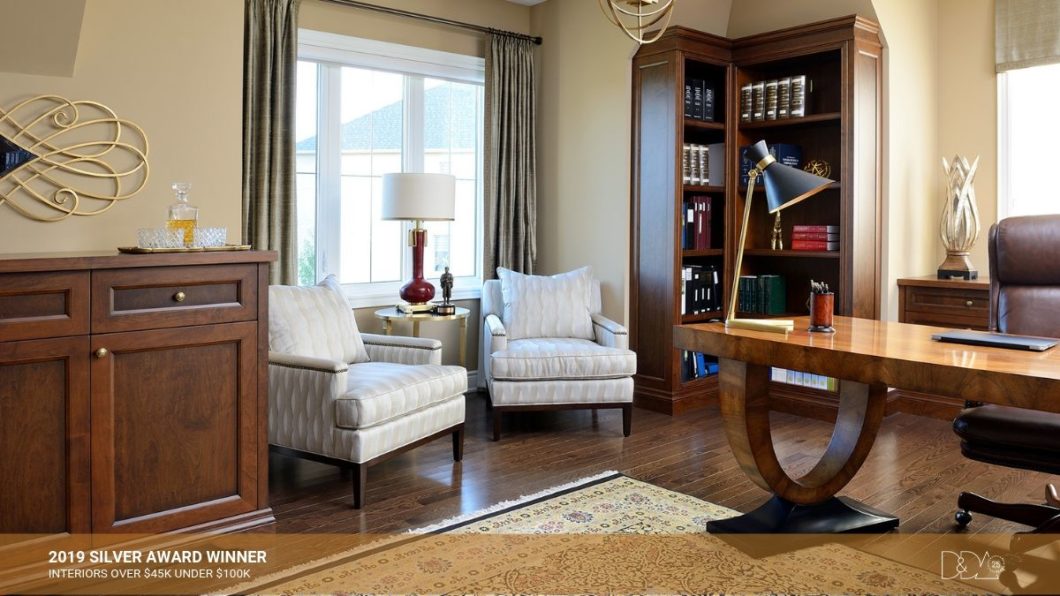 The homeowners had recently moved into a brand new house and they wanted an office for the husband, a lawyer who often works from home. With a separate locked entrance, the large loft above the garage would be the perfect space for private client meetings. The clients wanted a large executive-style desk and chair, plenty of storage for files, law journals, and legal books, and comfortable seating.
We installed custom mill-work that included a combination of open and closed storage and stained the maple cabinetry a handsome shade of brown. We selected a variety of textural fabrics to use in the space: luxurious, green silk for the drapery; cream linen for the armchairs; royal blue velvet for the down-filled sofa. We used a warm golden sand colour on the walls. A traditional hand-knotted wool rug in blue, green, gold, and cream brought the room together. Gold orb chandeliers and a gold mirror added elegance while the curved walnut desk with a French polished finish commanded the room.
Designer: Lumar Interiors
Award: Silver
"Fashion Forward Family Room & Kitchen"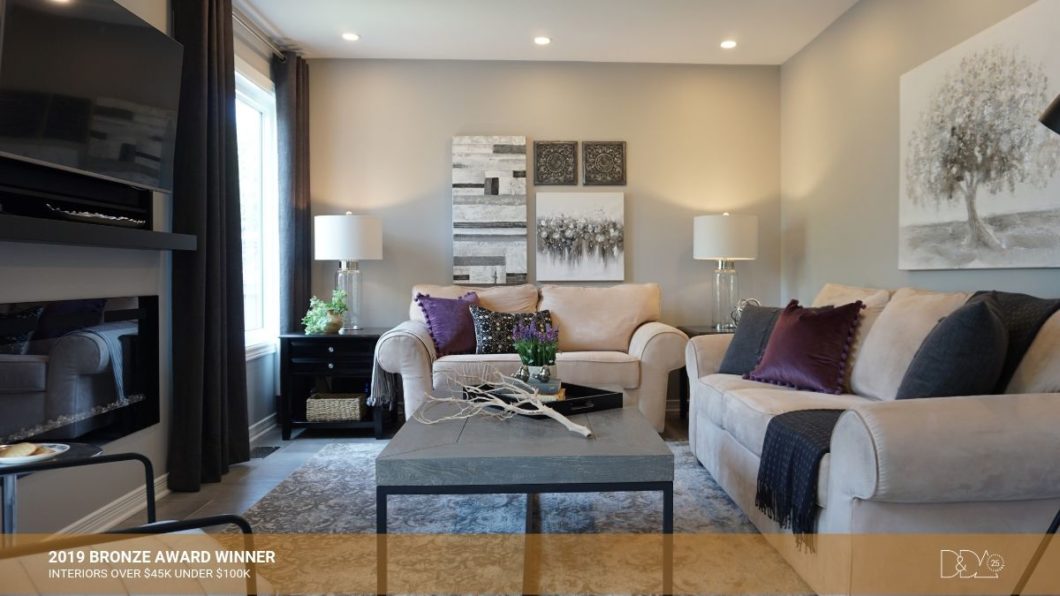 Entertainment was the client's passion so traffic flow—easy access from the family room to the kitchen—was their top priority. The original sunken family room was poorly lit, with lack-lustre décor, and dark walls. There were two focal points (the TV and fireplace) and one large chair stuck in the middle of the room. The breakfast area was cramped, mismatched, and presented obstacles to traffic flow. Though the kitchen cabinets and granite countertop were in excellent condition, the heavy backsplash, protruding refrigerator, outdated appliances, and lighting needed to be addressed.
First, we raised the family room floor to the same level as the kitchen creating one large room. By eliminating the awkward half-wall and stairs, we gained enough space for the new storage island. The low-backed chair completes the conversational area without obstructing the window. We mounted the TV on a directional arm above the sleek glass fireplace to remove the competing focal points and allow the existing sofa and loveseat to fall into place. A new coffee table with the right style was refinished in a lovely grey driftwood to complement the room. An oversized pair of glass lamps created ambient lighting at the back of the room while the carpet drew in layers of pattern and texture. Deep purple accents, natural elements, and a touch of silver added the flare to the room.
In the breakfast area, we installed a heated porcelain floor that pulled the two areas together for one cohesive look. We painted the cabinets and unified the project with intricate tiles behind the open hood. By angling the open shelves we could maintain the three feet necessary for clearance between the wall and island. The refrigerator was tucked beside a full-depth pantry, and the original doors were reinstalled with fashionable handles. We added a full-height pull-out spice rack beside the pantry to reclaim unused space. Ready-made drapes and a hand-made valance frame the new windows for a dramatic effect, and stunning pendants accessorize the space.
Designer: Margaret Struthers Interiors
Award: Bronze
With Construction Under $45K
"Magnificent Master Suite"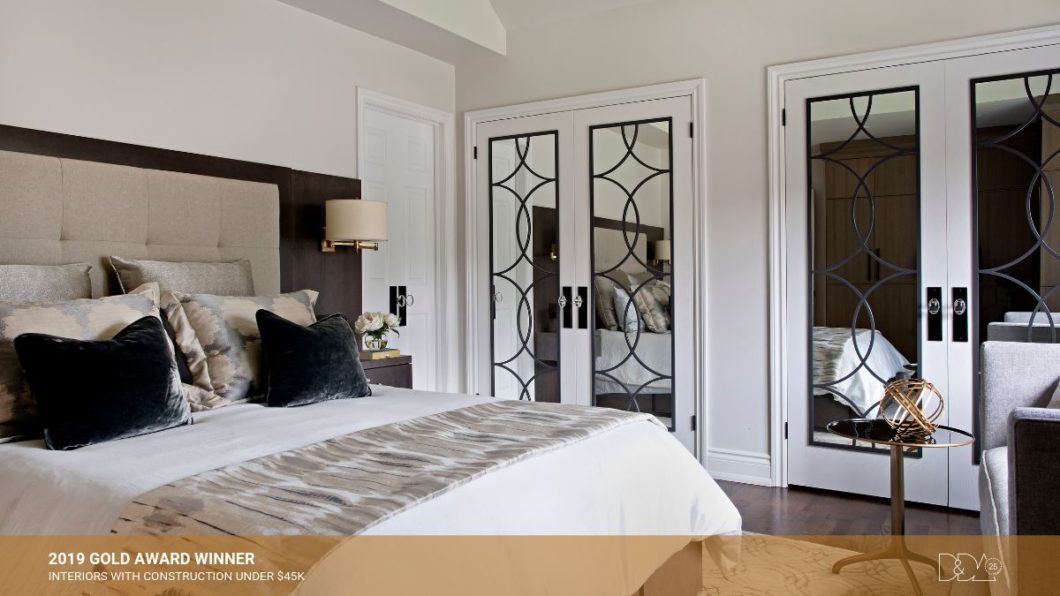 This master bedroom was dark and dreary, weighed down by the clients' existing pieces. The main priorities were lightening the space up, and adding as much storage as possible.
These clients have a classic and refined style, so we decided on tonnes of white and black, incorporating some greige, to add contrast and cozy things up. We included a large, full-height built-in that doubled their storage and even included a jewellery pull-out in the depth of the TV fascia. A bed base with six drawers provided even more storage, while the headboard allowed each person their own reading sconce and light switches. We added a mirror with custom-designed fret-work inspired by the pattern in the area rug to reflect the light from the window and make the space feel more open and airy. We replaced the carpet with wood, and removed a dated paladin window in favour of drapery hung high to accentuate the height of the room. We painted the walls off-white to add contrast to the darker feature items in the room and to blend the angled ceiling with the walls.
Designer: Pizzale Design Inc.
Award: Gold
"Country Charm in the City"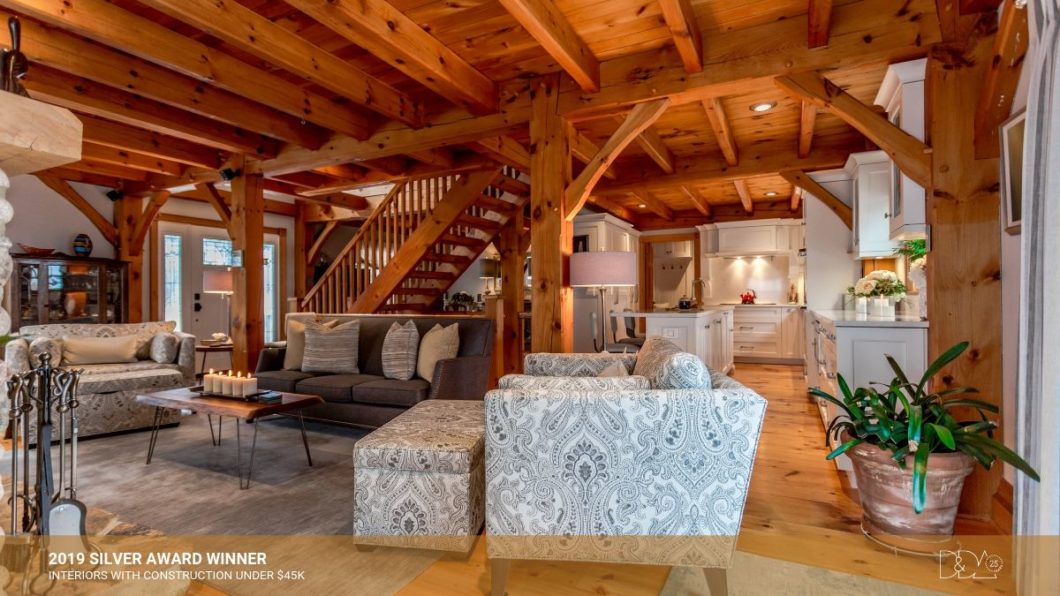 These clients are semi-retired and wanted to update their home with comfortable furnishings that offered flexibility for more entertaining and for aging in place. Their existing living area's seating arrangement was very cramped, with seating for only four guests. In the kitchen, the cook was always stuck in the U-shaped counter which made entertaining and interacting with guests impossible.
We started with a new seating plan for up to eight guests featuring two gorgeous, oversized, grey and cream paisley chairs with coordinating storage ottomans. The custom dark grey textured sofa with decorative nail heads added a touch of sophistication and live edge wood occasional tables with rod iron legs coordinated with the new fabric selections. New gun-metal hand-forged lamps were the perfect touch to illuminate this room, and natural wool area rugs in steel grey/blue created a rich and comfortable base for the furnishings on the pine floors. A grey, gold, and cream striped sheer fabric covered all of the windows allowing light to filter in during the day, while affording privacy at night. Custom gun-metal grey bench seating provided more storage and comfortable velvet gold bench cushions were installed on each side of the fireplace for additional guests. An angled built-in bar cabinet and a matching media cabinet softened the room's corners while using all available space for maximum storage and entertaining needs. The existing stone fireplace now looks beautifully centred for that perfect focal point.
Designer: Katherine Joy Interiors
Award: Silver
"Disastrous Flood to Basement Oasis"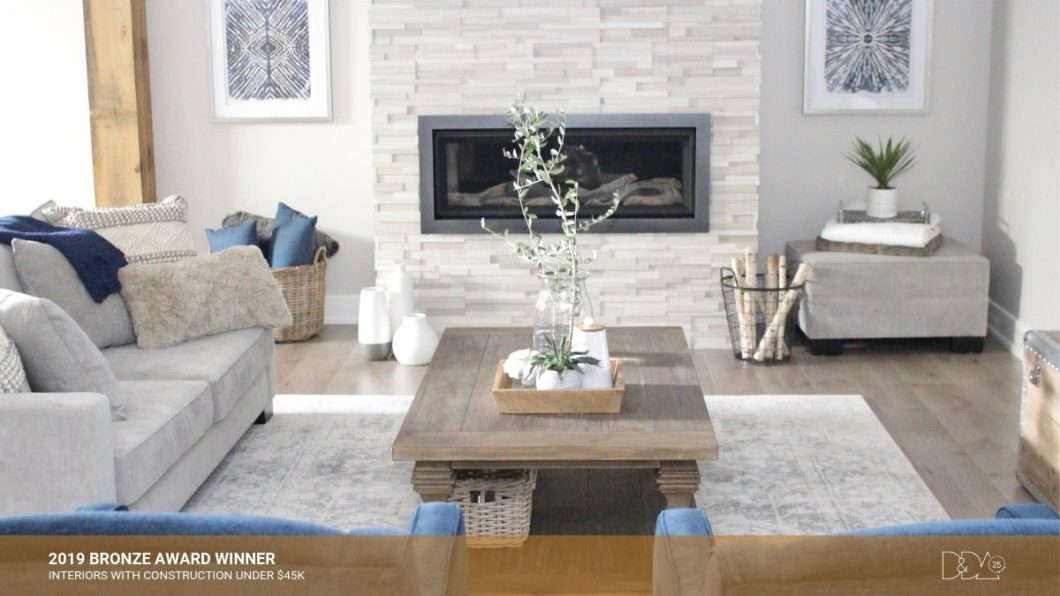 This family suffered a devastating flood that required the basement to be stripped to the studs. The space was very dark and cold, with low ceilings and old ductwork interrupting the flow. We wanted to help them put the flood behind them and reinvent this space into a multi-functional space where all three generations of this family could relax, play, and entertain.
First, we raised the ceilings in multiple areas of the basement and removed old wall mouldings to brighten up the space. A new floor plan created multiple areas and made sure there was potential to add a bedroom. We added a storage room for a deep freeze, fridge, and freezer, and a linear fireplace in the living area with neutral furniture and rustic textures. We designed a workspace that doubles as a games area, a convertible play area for the grandkids where furniture could be rolled out of the way when entertaining, and a built-in bar. Pot lights lightened up the space.
Designer: The Home Stylist
Award: Bronze
Without Construction $10K to $45K
"Ladies Lounge"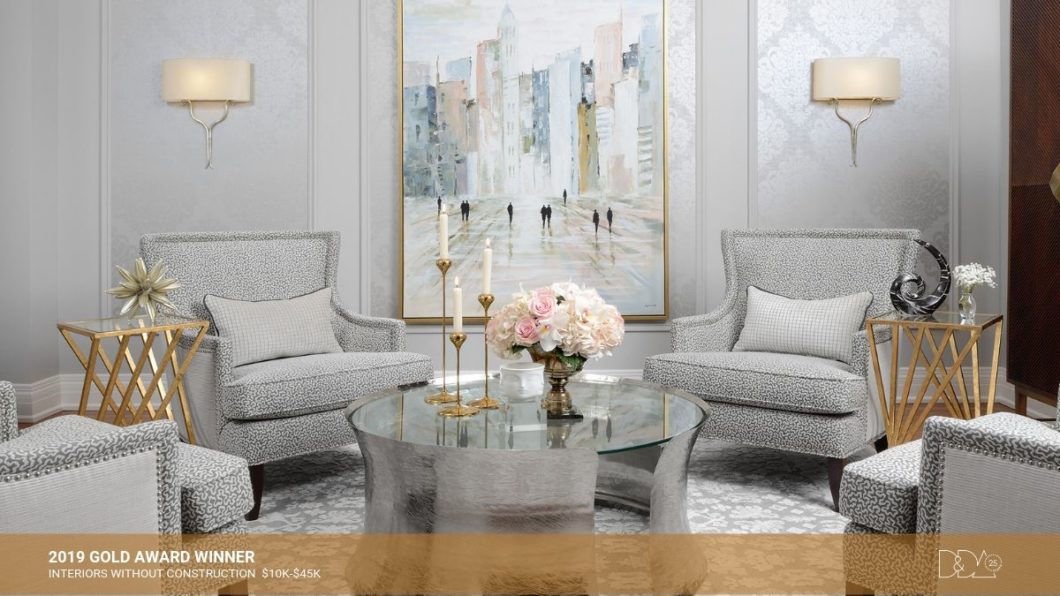 The original living room was a hybrid reading room and music room. With the clients' kids off to university, they wanted to convert it to a room for relaxing or having a drink with girlfriends. The room looked dated both in colour and in lack of architectural details.
We added some beautiful detailing to the architecture by completely redoing all the trim and baseboards, beefing them up to 4.5″ and 9″ respectively. We also added a substantial crown moulding which worked with the 9′ ceilings. Picture mouldings and a damask wallpaper dressed up the walls. Next we luxurious and highly tactile fabrics in soft, dusty blues, silver-greys, and creams. These colours also showed up in the area rug and in the large art pieces.
When choosing the furnishings, we had to be mindful of the amount of seating we could get. We found using four chairs around a cocktail table made for a cozy and inviting space. We installed a bench in the window that could be easily moved into the seating area for more guests. The bar cabinet is a statement-maker with the contrasting dark wood and brass hardware, and works for housing glasses and a liquor collection. We finished the room with tall, sculptural gold candle holders, a Jonathan Adler Muse Collection votive, a mercury glass starburst, and a marvellous faux fur throw on the bench.
Designer: Lumar Interiors
Award: Gold
"Contemporary Comfort"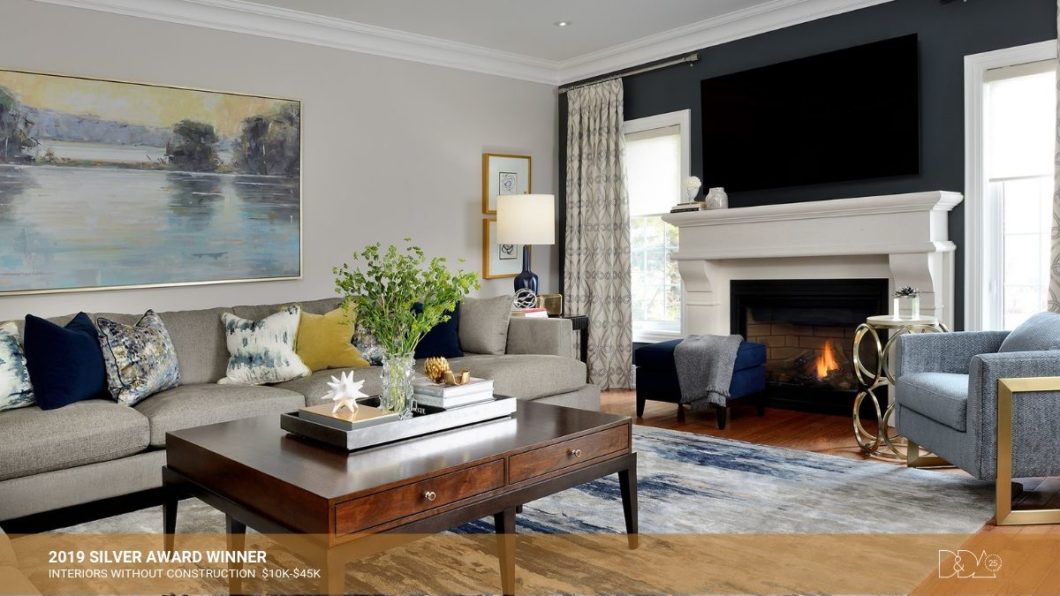 These clients lead stressful and busy lives. They wanted to bring this room up to date and have a super comfortable, upscale space to unwind at night.
We began by removing two small windows, replacing the trim and baseboards, and adding cornice moulding. We refaced the fireplace and replaced the mantle with a new cast stone piece. The colour palette—warm grey, blue, and dashes of citrine—made the room brighter and more contemporary. A large area rug pulled the room together. The contemporary styling of the large sectional steered the whole scheme. We added a metal and upholstered chair in the corner for additional seating and an ottoman that could be easily moved around when needed. Throw cushions added the colour and movement in the room. We treated the windows with a combination of roller shades for privacy and drapery panels for softness and moved the rods higher in the room to open the space. We used smaller side and cocktail tables along with a large square table. We used one large 72″ wide piece of art along with two additional smaller prints, facing a trio of wall discs on the facing wall.
Designer: Lumar Interiors
Award: Silver
"For the Love of Laundry"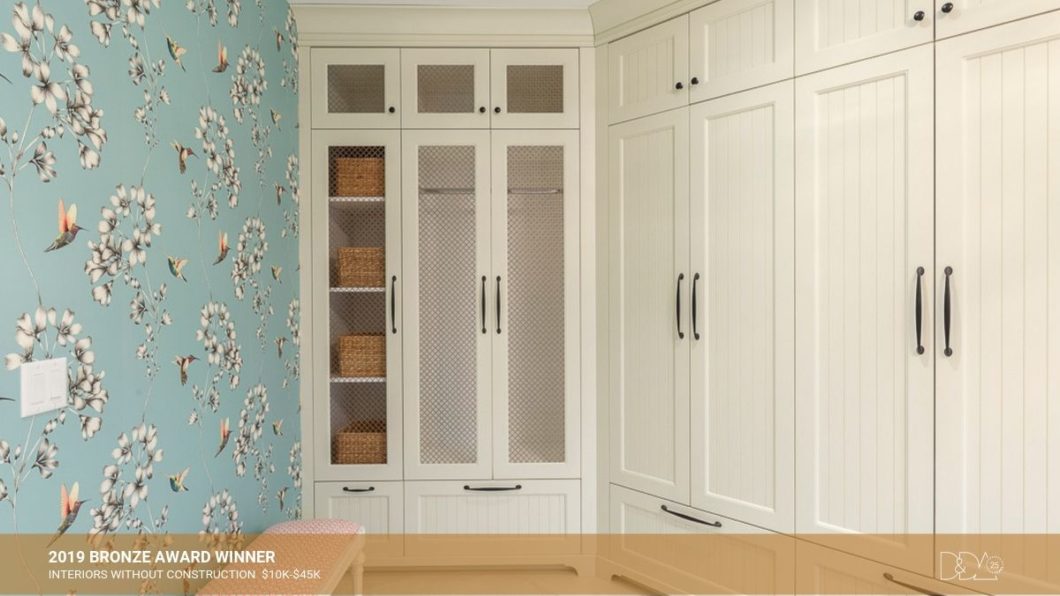 These clients had a strong vision of what they wanted from their laundry room: a cozy cottage feel that still appeared polished and provided functionality for everyday living.
We installed custom cabinetry with beadboard and antique brass-screening details, custom window coverings, a stand-out chrome faucet with traditional details, beautiful wallpaper with a splash of colour, and memorable decor accents.
Designer: Patti Wilson Design Inc.
Award: Bronze
Challenging Budget Under $10K
"Small Space, Big Personality"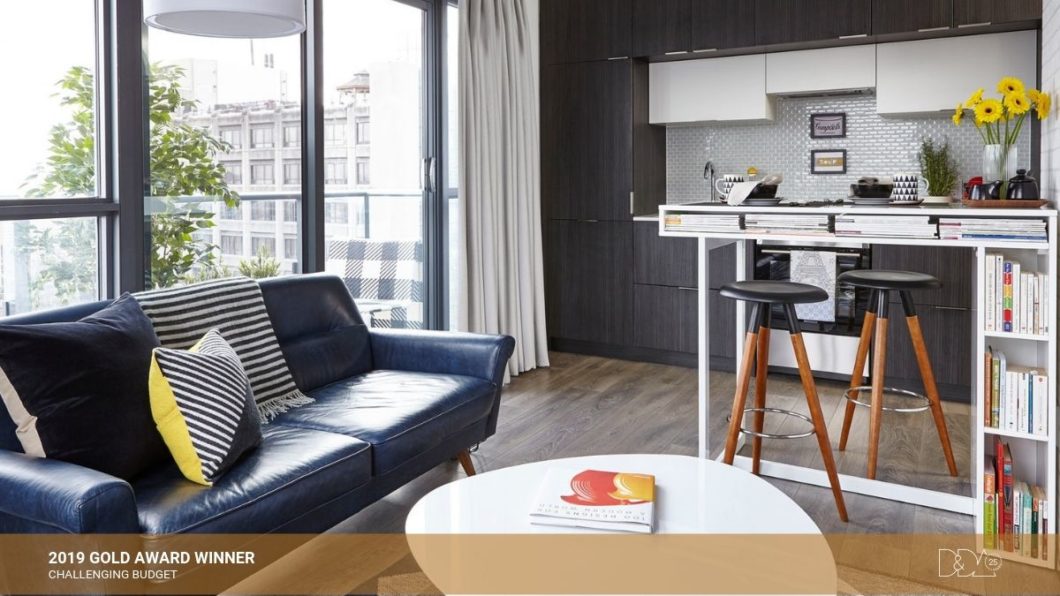 This condo project was inspired by the client's preference for modern European style using neutral and primary colours. Originally, the suite looked generic and uninspiring. The homeowner, a young professional from France, requested a functional and stylish space with the ability to accommodate seating options for guests during small parties. A bar or island for dining was a must-have.
The client's 55" TV, designer outdoor chair, retro-style kettle, and some family antiques were a starting point for designing his new home. We used a striking black and white colour scheme combined with bright blues, reds, and yellows, completed by rich walnut accents. A feature wall in striking blue creates an interesting contrast with the walnut mid-century style credenza and floating shelves, and the credenza serves as a stand for the large TV without having the appliance overwhelm the room. Open shelves showcase the client's family heirlooms. To create space, we chose a Danish-inspired love seat in navy and two cow-hide chairs. Optional folding chairs can be added when needed. The pillar, a part of the building structure, became a cohesive architectural element, dressed up in black and white miniature artworks. The area rug added a final touch to the bold finished look. The bar-height dining table serves as a cocktail and dining space with additional storage. Black bar stools with walnut legs contrast with the white lacquer finish of the table to bring a casual, chic vibe to the dining area. We introduced different layers of lighting to complement the space. White brick-style textured wallpaper lends a loft-like feeling to the space, and black trim creates a striking contrast. The narrow hallway with numerous doors was transformed into an art-gallery inspired space.
Designer: Maison Interiors
Award: Gold
"Modern Opulence"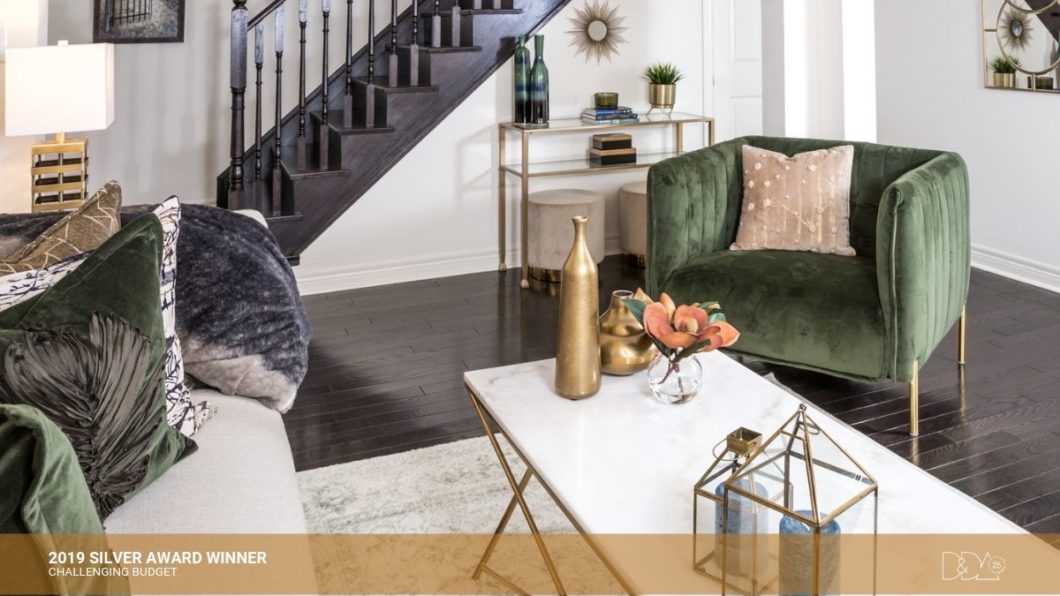 This client wanted a formal and luxurious living space to entertain guests and family.
Emerald green is a beautiful colour that can make any space look luxurious, so I used it as an anchor and played with texture, contrasting colour, and pattern. The bold, velvety emerald green chairs and a marble top coffee table set the tone, while gold lamps and gold accent tables injected opulence.
Designer: Rida Interiors
Award: Silver
"Beauty on a Budget"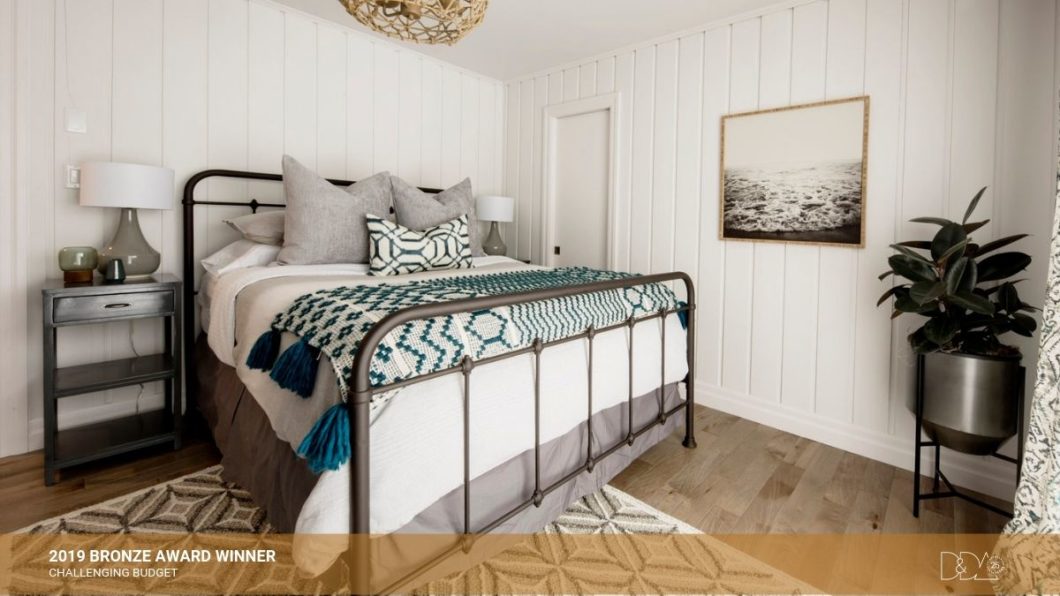 These clients had just undergone a huge renovation so this master bedroom had to be completed on a very tight budget.
During the main renovation, this space had new hardwood installed so the existing bones of the bedroom were workable. The existing vertical pine shiplap was primed and painted American White (2112-70) by Benjamin Moore. We used the client's original dresser and nightstands, painting the latter with a fresh coat of Kendall Charcoal (HC-166) to update the look. In keeping with the west coast vibe of the rest of the cottage, we kept the fixed elements neutral and let the furniture and decor shine. We selected a dark black-brown metal bed frame with a natural woven chandelier and coordinating black and white wave art from Wayfair Professional and used bedding and accessories from Homesense and Target. We splurged on custom window treatments and decorative pillows on the bed, stacking the sleeping pillows behind two large 26X26″ euro's and placed a shibori patterned lumbar front and centre.
Designer: ACM Designs
Award: Bronze