The Best Interior Decorating Projects of 2016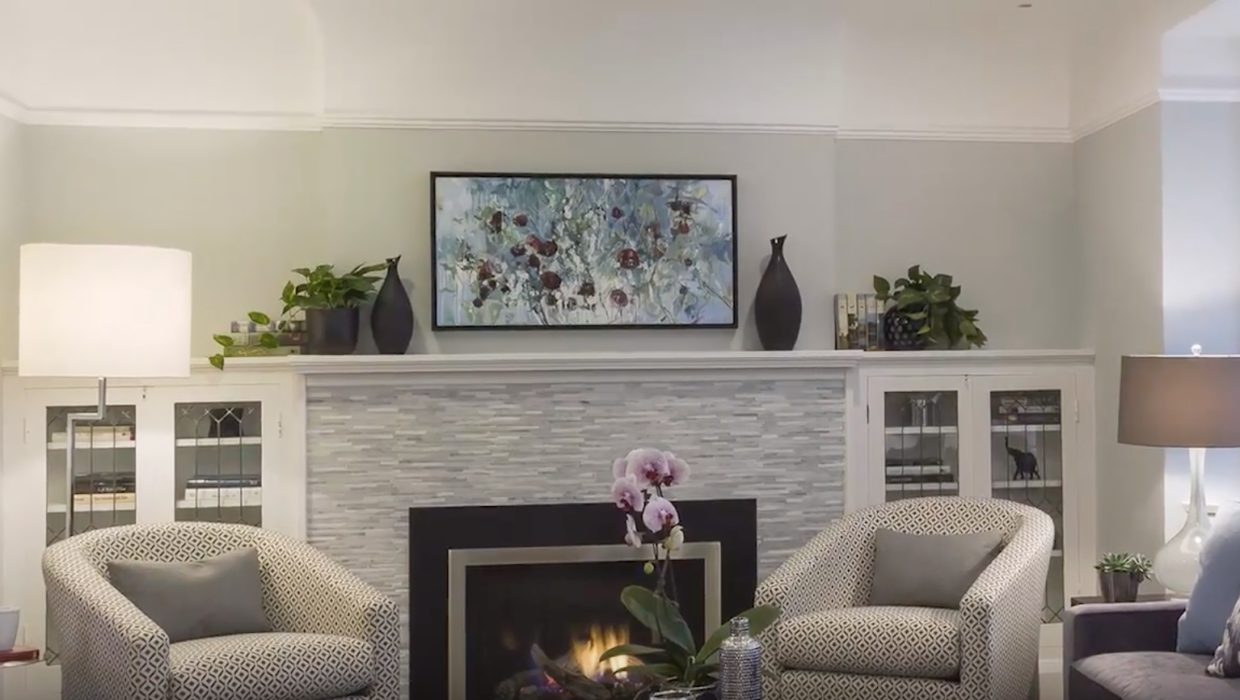 Whether you are a homeowner dreaming of updating your home, or a professional designer seeking inspiration for your next project, these award winning projects from across Canada are a must see. The nine interior makeovers are standouts for creativity, thoughtfulness and design skill. They also show you what can be done with a small, medium and large budget.
Interior Makeovers under $45K
"Cool, calm and uncluttered"

Heavy brown woodwork, dated wallpaper and an outdated brick fireplace made this family room feel gloomy and tired. The homeowners wanted this cluttered multi-purpose family room to feel modern, serene and elegant. Better lighting, painting out the dark trim and stripping the wallpaper gave the room a fresh, bright appearance. Removing the French doors from the opening into the dining room made the room feel larger, and textural materials and patterns of varying scales add visual interest. The icing on the cake: the fireplace clad in linear split-face Carrara mosaic tile, which creates a stunning focal point.
Designer: Allegro Interiors, Ontario
Award: Bronze
"Waterfront oasis"

An injection of freshness and elegance was just what this drab condo needed. A chaise rather than a couch, alongside armless dining room chairs made extra room for traffic flow. A monochromatic palette of white, creams and silvers with accents of aqua adds life to the space, while water-inspired patterns and art add interest and celebrate the nearby waterfront.
Designer: Pizzale Design Inc. Ontario
Award: Silver
"Heavy metal hangout"

The owner of this newly built condo wanted a polished, masculine design. The designer found inspiration in mechanical parts and Australian Aboriginal motifs. We lover the warm earthy colour palette, and her use of mixed metallics, worn woods and leathers. Our favourite touches are seen in the photo above: the urban mural that wraps around the dining room wall and into the living room, and the engine powder-coated and topped with glass to make a statement coffee table.
Designer: Ana Interiors Ltd., Alberta
Award: Gold
Interior Makeovers betweem $45K and $100K
"The Royal York"

This Toronto family room required renovation and the owners wanted it to have a contemporary aesthetic. The small wood fireplace was clad with stone stretching to the ceiling to create a striking focal point. Cabinetry that housed the TV was replaced with a clean lined walnut wood design, and all the furnishings and lighting were updated. The result: a polished, relaxed space that gives a nod to the home's traditional Georgian architecture.
Designer: Luman Interiors, Ontario
Award: Bronze
"Family Room Drama"

A high traffic area for a family of five, this main floor was both dated and awkwardly laid out. The family wanted this room to be sophisticated and elegant for entertaining, yet remain casual and family friendly. The bright palette is punctuated with a bold red chair and custom-built black cabinetry that adds drama and anchors the long room. Comfortable seating, audio-visual upgrades and storage make the space highly functional.
Designer: Sandra Cross Interiors Inc., Ontario
Award: Silver
"The Red Office"

Previously a children's playroom, this bright room with its vaulted ceiling and fireplace was the ideal space to transform into a room for quiet reading, work and games. French doors were removed and replaced with custom cabinetry in deep red, creating a cozy atmosphere and much-needed storage space. We love how furniture is used to create a separation between the office and den: the sofa, swivel chairs and ottoman visually and physically partition the room. To counterbalance the heaviness of the cabinetry, Sandra Cross selected cream drapes, a wool area rug, soft grey furnishings and silver hardware.
Designer: Sandra Cross Interiors Inc., Ontario
Award: Gold
Interior Makeovers over $100K
"Contemporary country family room"
The property owners wanted to give this simple cozy room a Californian contemporary sensibility—without feeling out of place in their country location. The new feature wall of Macassar ebony, walnut and slate creates the aesthetic, and is both luxurious and dramatic. Plus, it has created tons of storage in the room. The choice of furnishings, too, is so smart: they are stylish, the look can be changed dramatically by changing pillows and throws, and they'll be long lasting.
Designer: Evelyn Eshun Design Inc., Ontario
Award: Bronze
"Luxurious lodge"

A place to relax after a day skiing on the slopes, this chalet reno is a wonderful example of what can be done with a basement. Breathe Interiors has taken this space from unfinished basement to a rustic modern retreat. What's more, it's in perfect harmony with the surrounding farmland, while also reflecting the owners' aesthetic preferences. Note the incredible textural elements used in this multi-purpose space, and how they are so well balanced by the bright undressed walls.
Designer: Breathe Interiors, Ontario
Award: Silver
"Luxurious bungalow"

Classic design with a modern twist and homey feel were high on the wishlist of this art loving homeowner who loves to entertain. The designer's choice of creamy warm white creates datum for the interconnected spaces. Artwork punctuates with colour and texture, while the leathers, faux fur, silk carpets and metallic elements add sophistication.
Designer: Caroline Harrison Designs, Ontario
Award: Gold
These nine interiors are the 2018 award winners from the Canadian Decorators' Association's Decorating and Design Competition. The entries were evaluated by independent judging panels spread across Canada. Check out our Youtube channel to view award winners from other categories in the 2017 competition.