Outdoor Electric Fireplaces vs. Gas Fireplaces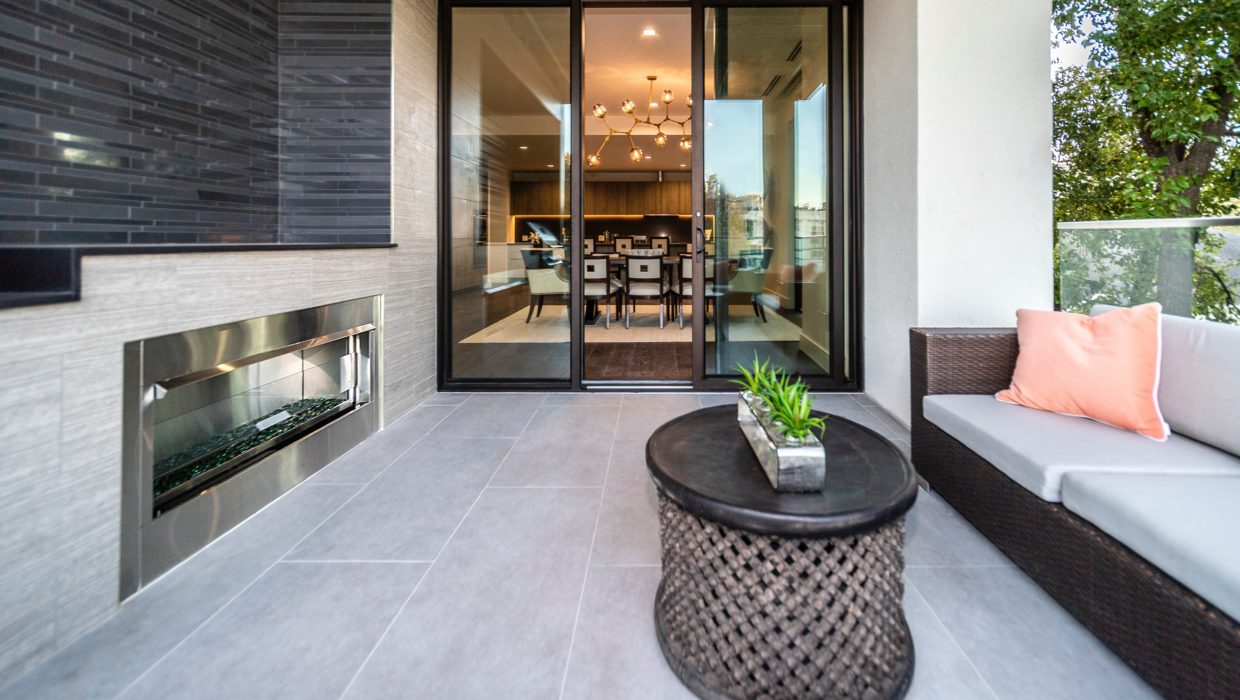 More and more Canadians are sprucing up their backyards and outdoor spaces. That means that interior designers are becoming exteriordesigners, too. Because our weather is fickle (I give you Spring 2019 as proof of that!), many homeowners are considering a fireplace for their outdoor space, to allow them to extend enjoyment of their backyards into the Fall and early Spring.
You may have assumed that an outdoor fireplace must be fuelled by natural gas or propane. However, there are now electric fireplaces that are rated for outdoors. When comparing outdoor electric fireplaces vs. gas fireplaces, many of the considerations are similar to a comparison for indoor use. Here's how we break it down:
Ease of Installation
If you're thinking of an outdoor fireplace, you will need to determine how easily you can get an electrical connection or gas line to the desired site. An electric fireplace requires either a 120 volt or 240 volt dedicated electrical connection. A gas fireplace will require either a propane or natural gas connection, as well as electrical power for the fan.
Gas fireplaces also require ventilation, as well as minimum clearances to combustibles. Electric fireplaces are zero-clearance and require no ventilation. These are important distinctions for enclosed porches, gazebos or small patios.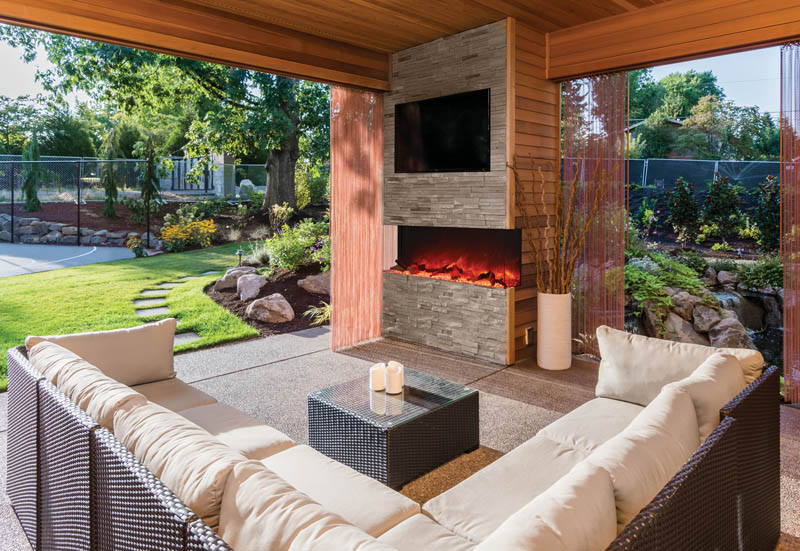 Space Requirements
Electric fireplaces have a much slimmer footprint that most gas fireplaces. If you have any space limitations for your outdoor fireplace, you will need to check the depth of electric fireplaces vs. gas fireplaces, so you know which is going to fit.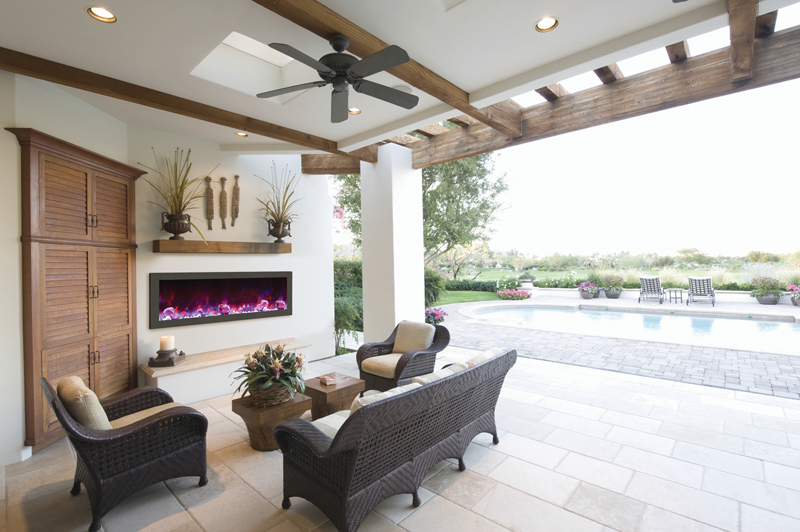 Heat Output
Electric fireplaces may be operated with or without the heater running. Gas fireplaces emit heat as soon as they are turned on. In warm weather, we are looking for ambiance over heat; the heat output of a gas fireplace my overwhelm those sitting next to it. Who wants to sit next to a blast furnace on a hot, muggy evening?! However, an electric fireplace can offer ambiance without heat, and is perfect for hot summer nights. In cooler weather, when we want to gather around a cozy hearth for warmth, both electric and gas outdoor fireplaces can offer this feature. Electric fireplaces will take the chill off an area of 400 – 500 square feet, on a regular 120 volt connection. If your outdoor space is larger than this, or you wish to use your fireplace in winter, then a gas fireplace will provide more heat to a larger area.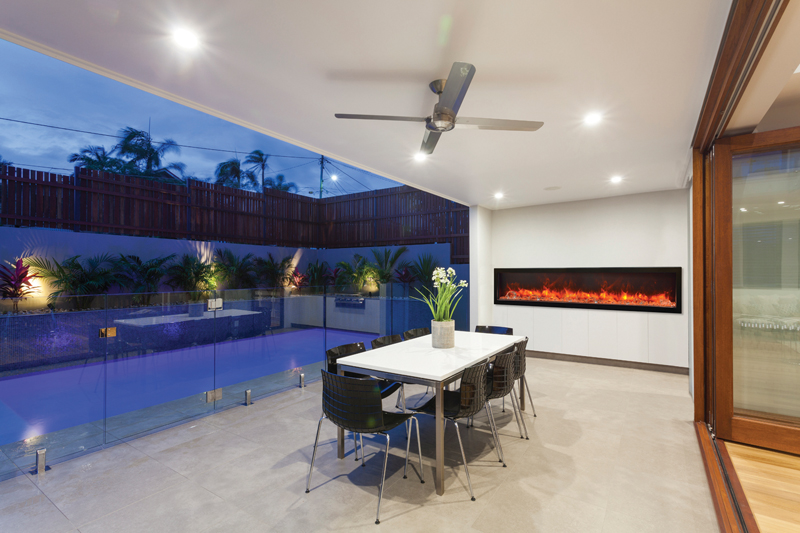 Design Options
Outdoor electric fireplaces come in linear designs at this time, with a single face as well as two- and three-sided models. However, if you prefer to have a see-through outdoor fireplace, you will be limited to gas. Likewise, if you prefer a more traditional outdoor fireplace, there are more gas options. On the other hand, there are no limits for the surrounding materials, when you are building an outdoor electric fireplace wall. You can clad the fireplace wall in any weather-proof material you like – flammability is not an issue with electric fireplaces. When installing an outdoor gas fireplace, as with indoor gas fireplaces, the walls around the fireplace will need to be non-flammable.
Another interesting feature that has become standard on most outdoor electric fireplaces, is the ability to change flame colours from orange to blue, as well as a range of pinks and purples. This means that you can make the fireplace appear 'cooler' and more summery – something you can't do with gas fireplaces.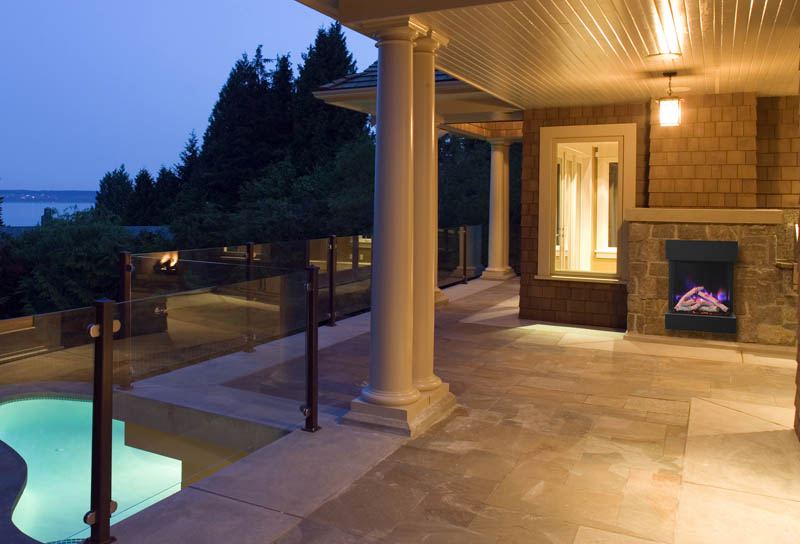 Cost
Outdoor electric fireplaces will generally cost much less than outdoor gas fireplaces. The fireplace itself will cost less; the electrical connection will cost less than gas, in most cases (this will be partially determined by the distance across your property that the connection must be delivered); and the materials around the fireplace may cost less, since you aren't dependant on non-combustible walls. The cost to operate an outdoor electric fireplace will be less than the cost to operate a gas fireplace for the same period. When you want ambiance without heat, the LED lights and flames in an electric fireplace will cost a fraction of the cost of running a gas fireplace. Since you only need to operate the heater on an electric fireplace as needed, most people will end up spending less on electric fireplaces than they do on gas, where heat is always put out whenever the fireplace is on.
The next time a client asks you to help with their outdoor space, consider adding an electric outdoor fireplace. They will be pleasantly surprised to learn that there is such an option!