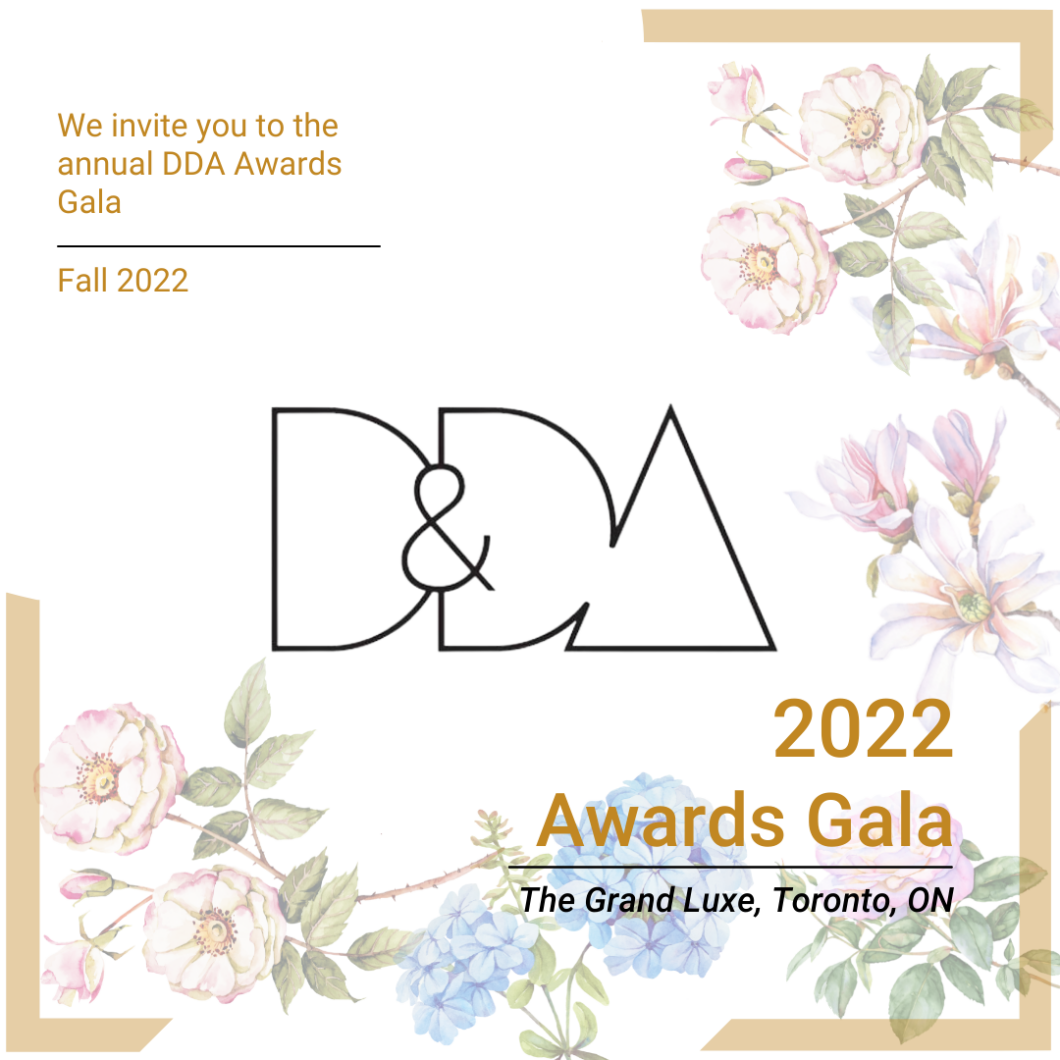 The DDA Hybrid Awards Gala will be taking place in the Fall of 2022!
More details to come.
---
Sponsorship Opportunities Available!
Our annual awards gala will be taking place later this Fall at the Grand Luxe in Toronto, ON. This event is a great way to meet and interact with the Canadian design community, and we're looking for your generous support in order to help make it happen!
Why to attend
The 2022 Awards Gala will be held as a hybrid event. This means that the event will consist of both a "live" in-person component, as well as a "virtual" online component. One of the greatest opportunities that come with sponsoring a hybrid event, is that all sponsors get both in-person and virtual benefits.
Virtual Platform & Venue
While the in-person component of this event will be held at the marvelous Grand Luxe in Toronto, the online component will use a virtual platform called Hopin. Hopin provides the ability to network, create virtual vendor booths, and offers many tools that allow us to engage and interact with attendees right from our computers. This exciting component will give people from all over the chance to attend this event, creating unlimited opportunities and possibilities.
If you are interested in supporting the event by way of sponsorship, please visit our website here or contact gala@ddacanada.com
---
2022 Awards Competition Overview
The competition is open to Accredited DDA Members. Each category has unique eligibility criteria and entry requirements.
For each project, entrants are required to submit photos, drawings and a design statement for the judges to review. Basic project and entrant information is also required, including the project's overall budget, a headshot and bio, and a project brief.
Entries must be the principal work of the entrant submitting the entry. Entrants who worked collaboratively on a project may submit the project as a team, as long as all entrants meet the eligibility criteria.
Gold, silver and bronze winners may be chosen in each category. Choice award finalists are selected from among the winners of various categories. This year, we look forward to presenting the following choice awards:
People's Choice Award – selected by the general public from among the gold winners of each category.
Influencer's Choice Award – selected by a Canadian design influencer from among the winners of the Whole Home categories.