European Style Trends for 2019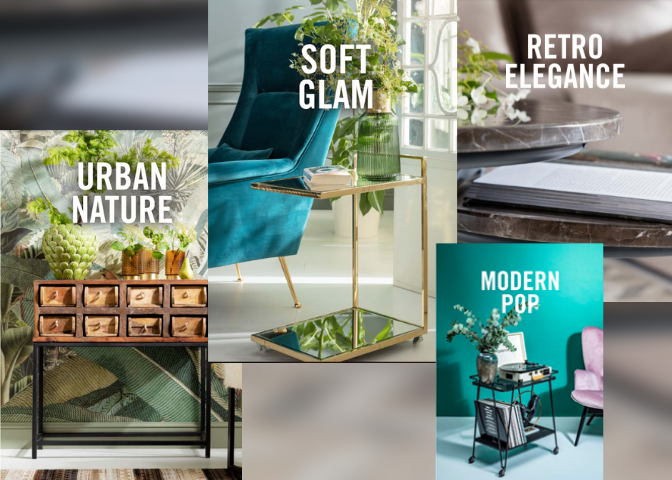 For some time now in-home furnishings we have seen a focus on craftsmanship, natural materials, traditional ethnic elements, unique pieces, and a renewed appreciation for retro and vintage style. These trends seem to be the result of our desire, in today's fast-paced digital society, for consistency, security, and to be surrounded by the familiar. Across all age groups and income brackets, consumers are looking for inner peace and tranquility. In our homes, we create spaces that give us strength, filled with quotations from our lives, with symbols of the familiar and a return to the natural. Living rooms and other spaces are enriched with personal statements, and the result is an eclectic mix of styles; a collage of individual personalities and lives. Will this trend continue in 2019?
Eclectic Style Mix
According to German furniture maker KARE Design, we will see an increasing appreciation for rule-breaking and eclectic mixes of diverse styles in 2019. Imagine an Art Deco sofa paired with a Mid-century chest of drawers, a tulip table in the natural style, and Pop Art objects combined with classic lounge chairs.
Urban Nature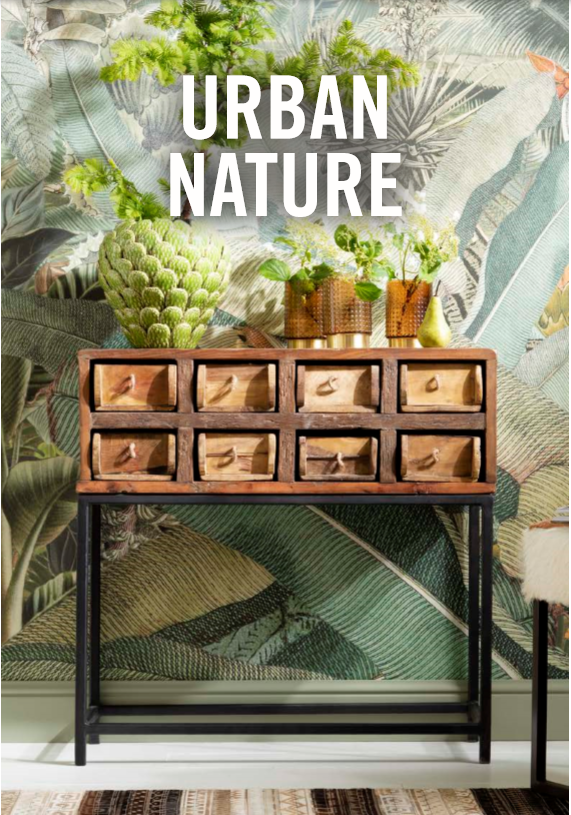 We also expect home furnishings to continue to be influenced by nature and craftsmanship. However, we will see a more cosmopolitan, casual and lighter take on the earlier manifestations of the natural style, being the countryside and the chalet styles. In 2019, we will see more light-coloured woods being used in their natural state. These woods will be combined harmoniously with materials such as basketware and rattan – preferably woven and braided. Not heavy, but airy, and in light shades with only a few touches of colour. The shape of the wicker armchair will resemble that of a casual lounge chair from a club in Ibiza. Wool and cotton rugs in sandy tones with discreet ethnic patterns will be used under foot, as if you were walking on the beach. Glass accessories and simple brass frames surrounding round mirrors create a modern, cool twist. White lacquered tulip tables add freshness. This Urban Nature style soothes the soul and demonstrates an appreciation for the craftsmanship of its furnishings and pieces.
Soft Glam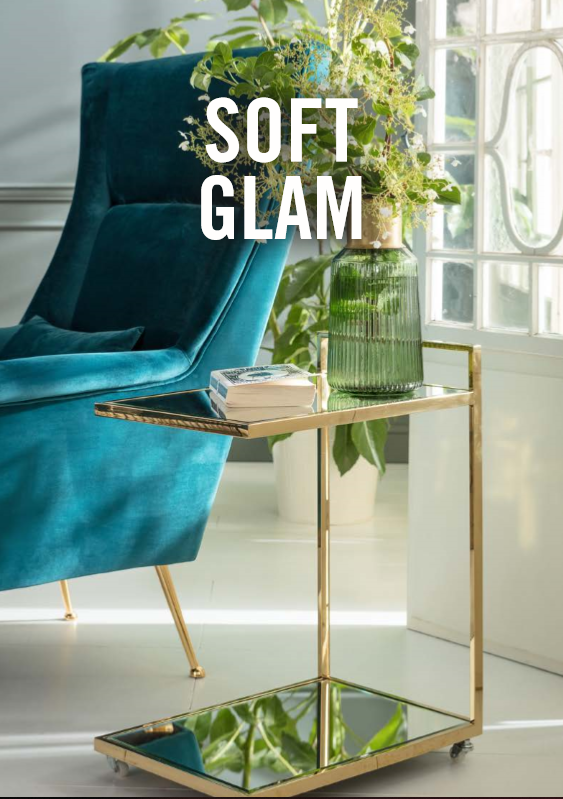 Showy pieces will be frowned upon in 2019, and soft glamour will be the objective instead. Living rooms and dining rooms will be elegant and sensuous, yet casual and unobtrusive. Elegant designs, soft-feeling materials and the warm, sunny rays of shimmering metals. There will be a comeback of warm metal tones and velvet as a favourite material. Features such as brass-coloured pedestals don't just signal prestige, they will also bring a warm glow into the home. Instead of elaborate chandeliers, interstellar-looking lamps with glass spheres in a satin finish will float above the dining table on matte, brass-coloured rods. Dining chairs will be comfortable and upholstered with soft textiles in shades of dark blue and green. Soft Glam focuses on high-quality statement furniture that can survive more than a single season. The window sill and the sideboard become the stage for individual, often large-sized decorative objects with an artistic touch, such as hand-welded geometric objects on a marble plinth.
Modern Pop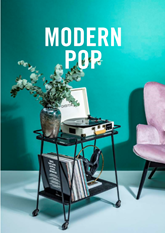 Variants of the stylish furniture design of the 1960s to 1980s will be on trend in 2019. Pop Art splashes of colour will be used in an unconventional and sophisticated mix. Shelves will become gallery spaces and a collection of decorative objects will tell of the life of a cosmopolitan with a soft spot for Andy Warhol and the Memphis Group. In between one can envision grouped curious objects such as the Gangster Dog and Gangster Rabbit human-animal figures by the world-famous artist couple Gillie and Marc. In front of them, an abstractly patterned rug in trendy colours sets the playing field for an elegant swivel armchair with footstool. Sideboards and console tables will be made of oak and remain classically modern in their treasure trove of forms. Chairs, armchairs and sofas will take on the role of star soloists, catch the eye as organically rounded upholstered landscapes in velvety orange or as straight-lined armchairs in violet, and promise a fascinating clash of styles with thickly stitched upholstery in luxurious leather. Large-format photographs in black and white and graceful, constructivist side tables in black lacquered steel complement the look with graphic contrasts.
Retro Elegance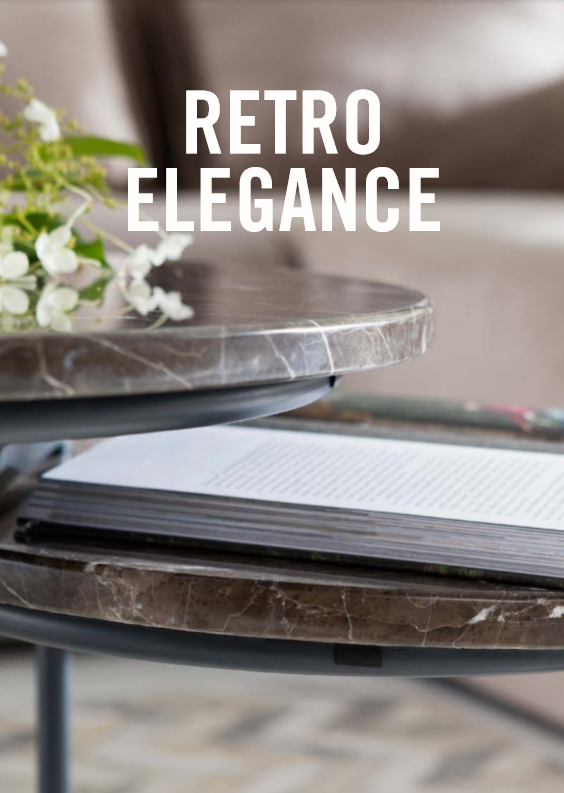 With this 2019 trend, hand-crafted furniture will be key, but the fronts of straight-lined Mid-century-style sideboards look more like abstract paintings in oxidized metal colours. The best Mid-century design will be coupled with Art Deco forms. Think furniture, lamps and accessories of art-loving people who turn their home into a modern salon where they can philosophize with friends about art events and new jazz. Elegant, neutral tones from grey to brown will be used. Leather, velvet, dark wood and transparent features in glass will be used in combination in armchairs and solid wood furniture. Console tables with have grey stone tops. Imagine a chest of drawers, on which an abstract oil painting leans against the wall, accompanied by a collection of ceramics and glass vessels. In between sits a charming armadillo – a lifelike replica in warm shades of bronze.