Easy Ways to Transform Your Kitchen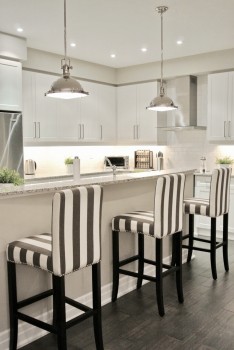 Style and function. They're two things that don't always go hand-in-hand. From towering high-heeled shoes that are fashionable but impossible to walk in, to trendy furniture that's far from comfortable, there are countless examples of where the two just can't seem to get along. But that doesn't have to be the case, says Kasia Waloszczyk, an interior stylist and owner of Chi Chi Home Boutique in Milton, Ontario. And what's more, decorating for both style and function doesn't have to be expensive.
Waloszczyk says one of the easiest, fastest and cheapest ways to add some flair to your kitchen is to simply de-clutter. "People often have their countertops covered with mismatched items that do not add any design element to their kitchen," she says. Once the space has been de-cluttered, she recommends introducing a few bold accessories to the countertops. "Inject a fresh splash of colour," she says. "The idea is to keep it simple, clean and neat in order to make it chic."
Accessorizing was one of the key elements of Waloszczyk's recent winning design in the annual Canadian Decorators' Association awards. She scored silver in the "Kitchens under $35,000" category for her "Recipe for Chic" submission.
The design, which she says was a "modern look that was injected with a timeless classic style and dash of rustic flair," was budget-conscious, while still relying on a few splurges to add some life and excitement. Stylish bits such as bistro faucets and awning-striped bar stools added an exciting blend without sacrificing function. Waloszczyk notes that even luxurious looks can actually be quite affordable, if you know what you're after and what a good comparable version is. "Seamless slabs of Carrera marble as a backsplash look luxurious in a white timeless kitchen, but can get really expensive," she says. "You can achieve a luxurious look by opting for an economical and classic white subway tile that will cost you a quarter of the price without jeopardizing the look."
Another important thing to consider, says Waloszczyk, is determining what elements best suit your lifestyle. "If you cook with a lot of sauces and oils, your surface and backsplash need to be able to support the heavy usage that takes place in your kitchen. Granite countertops versus limestone would be a more functional option and still allow for a stylish appearance."
If you're thinking of redecorating your kitchen, Waloszczyk recommends starting with a list outlining the concepts you'd like to incorporate and that your current kitchen doesn't offer. A folder of visual ideas is good to have on hand when you meet with your designer. "You'll be more on track and focused on the details your new kitchen has to offer, in order to make it more functional," she says.