Climate and Design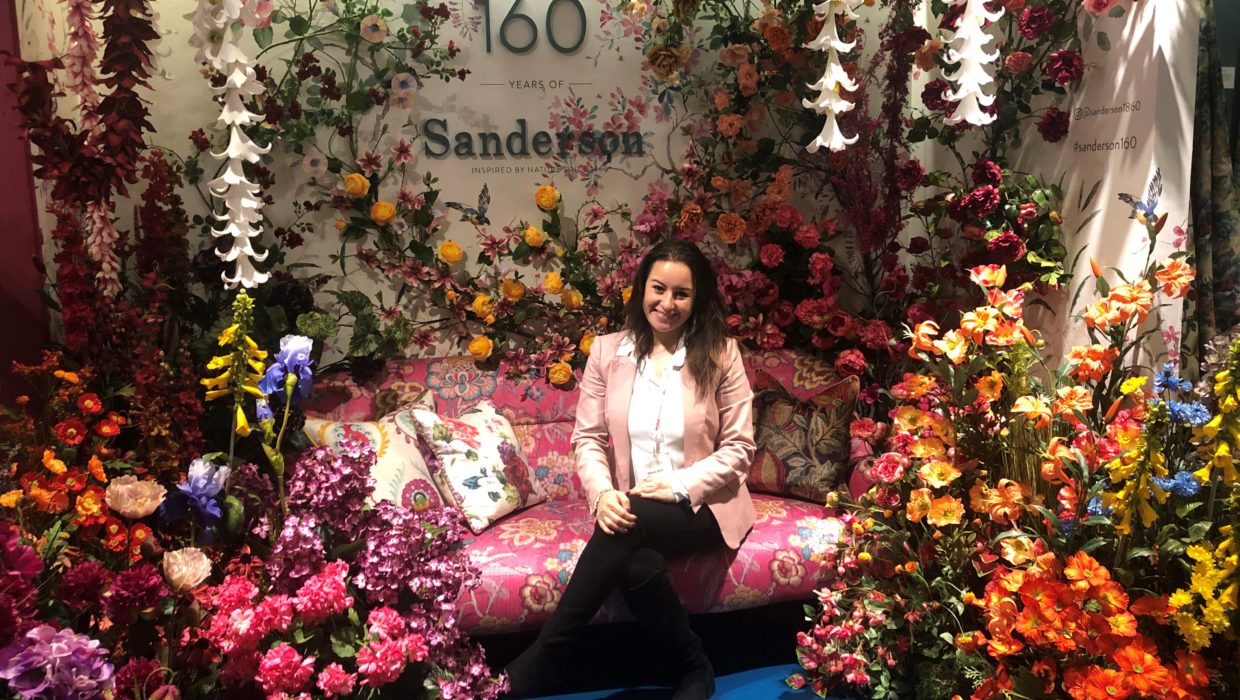 A picture from the Design show reflecting the Month of Spring
Climate, which is the weather condition we live in that ranges from change of temperature, rain, rising of sea level, wind, to variation of frequent or intense weather events; affects our environment and accordingly our well-being.
I had recently attended one of the very best interior design exhibitions in London, UK – The Design show, at the Chelsea Harbor Design Centre. I was exposed to different new trendy, eco-friendly materials and attended several lectures and seminars on the Climate & Design topics.
In this article, I would like to share what my experience at the exhibition has taught me.
The global spotlight is focused on climate change, which is now affecting every country on every continent.
A change of climate will affect the environment we live in. It will reduce the durability of building materials and affect the indoor climate of buildings. This topic became a solid essential point for many worldwide organizations, and have yet been investigating, studying and researching how to manage the climate. Such as Canada's latest event "How Green Buildings can help meet Canada's 2030 emissions target" held by The Canada Green Building Council.
Since climate definitely affects construction and build, the climatic design's purpose is to facilitate a growth in the energy efficiency of buildings. Some coding, ecological materials and technical details are used now to improve the quality of construction and the environment for home residents. Essentially, what is placed in our building influences our health.
Climate awareness is now growing with people and becoming more receptive to producing buildings that have low impact on the environment.
One of the key directions for climate is through energy efficiency, which can dramatically reduce emissions and significantly reduce energy costs. This will reflect on building materials while construction takes place, and interior finishes as well.
Many external factors are affecting our exterior and interior Designs, such as the amount of direct sunlight, which simply affects our bodies, our mood and our furnishings inside our homes, such as curtains, upholstery and basic furniture.
External walls act as a buffer between internal and exterior climate. Accordingly, builders are expected to use the right materials for walls. As well as designers need to preferably source the reliable sources for sustainable materials and textures.
In an interior aspect, when using millwork or wooden furniture and brands, some questions that should be asked that would help to evaluate the sustainability of selected materials include; What is the wood made of? Where was this piece of furniture originally made? What brand or specification is this fabric? Is the fabric certified ? What would be the right fabrication for a long lasting quality? Etc.
Most sustainable fabrics are safe for the environment and are created using minimal chemicals. One of the most eco-friendly options is to work with recycled, upcycled fabrics such as Linen, Hemp, Organic cotton, etc.
As for the wood, natural materials like grass bamboo and rattan are great for flooring in home decor.
We should educate ourselves more about sustainable interior practices, but doesn't always mean all our approaches will fall into this aspect. As a good functional design, great quality and durability are very important too.
I also learnt that even though the new trending plastic pieces in the global market are artificially made form bioplastic, which is a combination of sugar beet and waste cooking oil, it is yet to be avoided, also including plastic in general due to its negative effect on our environment.
As for paint, which has become quite important in the current market, the less the VOC the better when choosing paint. The lower the number, the better.
VOC is harmful as the paint dries since the chemicals evaporate into the air. Most individuals, this can lead to nausea, headaches, irritation, and sometimes to organ damage. This can be experienced if paint is used indoors without proper ventilation.
Paint that is eco-friendly and non-toxic is always the better option. These can be found at many brands including Benjamin Moore. Natura/Aura for hard surfaces and Milk Paint for furniture pieces.
Lighting in design is one of the main energy saving element and important factor to beautify any space. Most of the brands produce low-energy LED lighting that are 90% more efficient than incandescent bulbs and last many years.
A push for Design Sustainability and GROWING A GREENER FUTURE design innovative global construction projects which foster a more sustainable, harmonious relationship with the natural environment.
To lower the pollution and low waste international logistics, experts advise to buy local or from sustainable brands that incorporate low-pollution logistics into their practices.
Lastly, I want to highlight on the acoustical materials, which play a big role too in the Climate and Interior Design. Sound proofing to reduce the noise generated from both inside and outside of spaces, between room to room or floor to floor, is treated with different acoustical materials such as panels, foam, fabric or metal. This will have a beautiful look, and will increase comfort for home owners.