10 Kitchen Trends Destined to be Timeless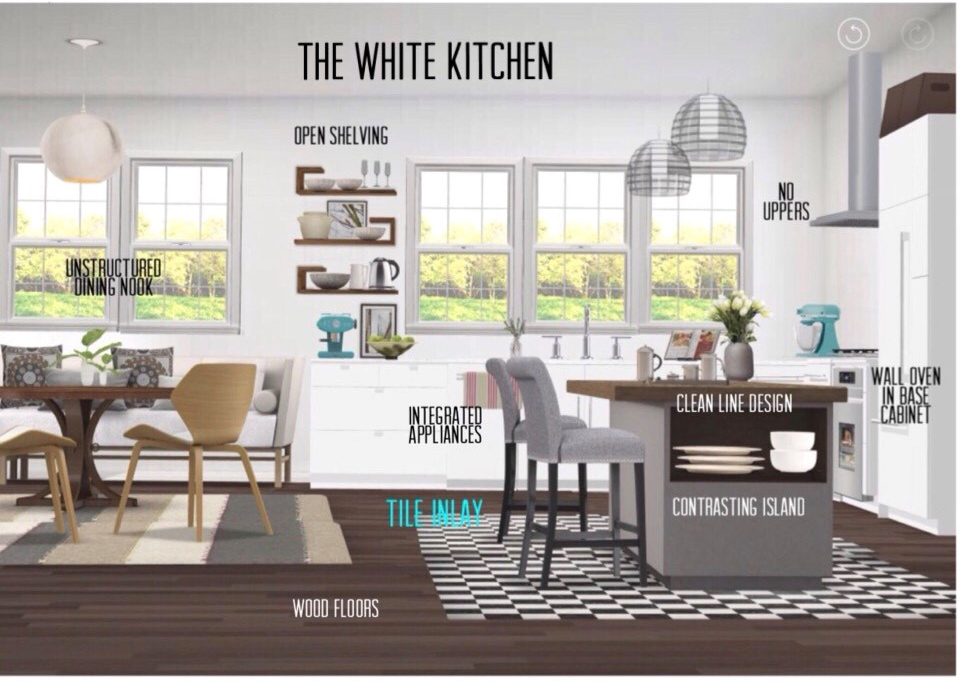 Each year there are always creative ideas in the ever-evolving world of Design. Some take off. Some don't quite land. Some are short lived (I'm talking to you, rose gold). Regardless of consumer response the kitchen is the one area where trends are constantly developing because it's the heart of the home and manufacturers are always improving their goods. So I thought I'd give my take on 10 trends that have been recently developing in the kitchen design field that I think are destined to stand the test of time.
The White Kitchen: I know, it's not new and I wrote a whole article last time about using colour in kitchens and how we've all been screwed by the Trophy Kitchens of Diane Keaton Movies. However, the appeal of a white kitchen is undeniable. It always looks bright and clean. You'll always get asked by Clients for one. It's here to stay. Make your peace with it.
Integrated Appliances: cladding your fridge and dishwasher doors in the same paneling as your cabinets makes the kitchen look bigger and more seamless
Wall Oven In Base Cabinets: this is genius and totally in keeping with Integrated Appliances. Putting a wall oven in the base cabinet below the cooktop makes it operate like a stove but is cleaner and tighter. I don't know who invented this but they deserve a muffin basket.
No/Few Uppers: using no or few uppers also keeps the kitchen looking cleaner and more spacious. Plus you can take a cool backsplash right up to the ceiling for dramatic effect
Open Storage/Shelving: this is influenced by "Restaurant Kitchens". Having open shelves or storage to grab things like pans or plates quickly appeals to the home chef or Martha Stewart wannabe
Complementary Island: having the island stained or painted to complement your cabinets makes it a feature. It looks like a piece of furniture rather than a clunky pile of base cabinets with stools at it.
Wood(like) Floors: using hardwood throughout your house and carrying them into the kitchen makes the house look larger because there's no breaks where the flooring changes. Vinyl flooring is especially great to use. It's durable, looks real, is cheaper and your Client won't freak if the dishwasher overflows
Tile Inlays: using an area of tile (or vinyl tiles) in an area of the floor, either in the centre of an open area or under the island is great feature. It looks like a carpet and you can make some really nifty patterns
Clean Lined Designs: keeping the island the same height as all the counters makes great use of horizontal line especially in more contemporary kitchens
Unstructured Eat-In Area: having an eat-in area in a kitchen is great as sitting at an island is impersonal. Unstructured means instead of using a traditional table and chairs or banquette seating, you use a slim lined sofa with a table and chairs. It's more like a cool coffeehouse or lounge and makes for a great spot for your Clients to hang out in.
So those are my 10 Kitchen Trends I think will be timeless. And just for fun and to illustrate my points, here is a rendering of all 10 used in one kitchen design. I hope it inspires you.